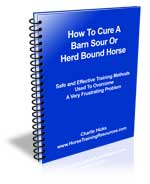 Tired Of Fighting Your Horse?
Want To Take Control And Ride Safely?
How To Cure A Barn Sour
Or Herd Bound Horse
Safe and Effective Training Methods Used
To Overcome A Very Frustrating Problem
Kindle version now available – see below
[do action="form_basichorsetrainingbook"/]
Why Do Thousands Of Horse Owners
Fight This Problem?
You want to take your horse for a ride.  You tack up and ride out only to find your horse goes bonkers and won't leave the barn or his buddies behind.  He throws a fit, rears, bucks and balks at the thought of going any farther.  Or, you ride away from the barn for a ride and once you turn toward home your horse takes off at a full run and you can't stop him.
Frustating and Dangerous!
As a horse owner or rider, dealing with the herd bound or barn sour horse is frustrating.  And, for the green or inexperienced rider, this can be a very dangerous problem to deal with. 
One of the most frustrating things is trying to figure out how to fix this problem.  For many, it seems no matter what you do it either doesn't get better or it gets worse!  I've have lots of folks write and ask how to cure this problem – it seems so overwhelming.
A Complete Training Program
We put together a special booklet just on solving the Herd Bound or Barn Sour horse.  Through our years of experience, coupled with the knowledge of many other professional trainers and research, we have put together a complete training program you can take and use to solve these nagging problems you have with your horse.
BOTH
The Problem AND The Solution
Are Described
1. Why your horse is acting this way
2. Describe specific training principles to give you a preview of what methods you'll need to use
3. Give you a sequence of methods and activities to overcome the herd bound or barn sour problems.
4. Finally, we offer additional training "tricks of the trade" to help you in varied situations.
The Table of Contents
of this excellent 20 page manual:
Table of Contents
Introduction

What Causes A Horse To Be Herd Bound or Barn Sour?

Preparation And Training

The Recovery Process

How To Cure The Horse That Rushes Home

Even More Tactics To Use When Needed

Patience And The Whinnying Horse

Don't Reward Wrong Behavior!

Final Thoughts
We have covered everything it takes to cure the herd bound or barn sour horse.  We present it in clear, easy to follow language with simple methods that are designed to work.
Horse Riding Freedom!
Tackling the herd bound or barn sour problem head on is the only way to gain the freedom you desire to ride wherever and whenever you want.  How sad it is to have the horse dictate where or when you ride!  Now is the time to start taking back control and to enjoy your riding and fun with your horse.
Ready to get started?
Choose NOW Between These Two Versions:
 Special New Product Release
Download Your Copy
Now For Only:
 $17.00 
Immediate Download
Only: $2.99

Note: NO shipping costs
this is an Adobe PDF download.
Kindle Version Now Available
Only $2.99 If You Buy Now!
Click the image below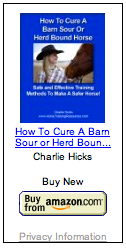 NOTE: You do NOT need a Kindle to read this version!  You can download FREE Kindle reading applications for your PC, MAC or Smartphone.  See below.
Don't have a Kindle yet?
Check them out here:
If you don't have a Kindle but are interested in one then click on the ad below:
NOTE:
You Don't Need A Kindle To Read The Kindle Version!
Get A FREE Kindle Reader
for your PC, MAC or Phone: