Horse Trick Training
Want to have some fun with your horse?
"How To Teach Your Horse Basic Tricks"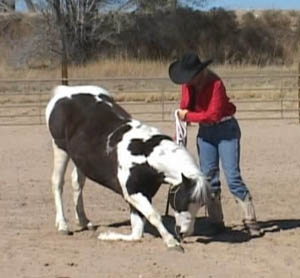 Sue showing how she teaches a horse to kneel!
With 30+ years of horse training experience,
Sue Robertson shows you how to
teach basic tricks to your horse.
Sue shows you the EXACT process she uses to
teach horses to such tricks as:
Kneeling

Praying

Smiling or Laughing

Saying "Yes" or "No"
Have you ever wanted to work with your horse to do some fun stuff?  How about teaching tricks to your horse and getting them to show off on command?!!
We've had lots of interest in this and we are now releasing this great DVD that shows you the entire process of teaching your horse tricks.
A Great Way To Work With Your Yearling
Do you have a yearling or young horse and want to do something with it before they are old enough to ride?  Here's a great way to extend your training and have fun in the process.  Not only will you be teaching your horse lots of fun things and things you can show off to others, but you'll be building a stronger relationship with your horse and will have a horse that is easier to control.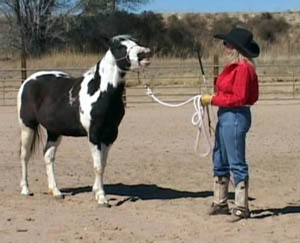 Sue showing how her horse will smile or laugh on command!
Here's just a few of the things you'll learn:
The basic process you need to use to teach any kind of trick
How a horse learns – and why you need to understand this before you start teaching tricks
Why you should NOT use edible treats to teach tricks
Why it's so important to lunge your horse first before trick training
The two things you'll need to be successful to teach any trick
Various aids to use to teach tricks – and how to use them
How often you should work with your horses to get the best results
Knowing the training requirements before you start teaching tricks
One thing that's unique about Sue's methods is the process she uses – she doesn't use any kind of treats, carrots, or any edible foods to reward them.  This is soooooo important!  She only uses positive encouragement and praise for the horse when she starts getting the right results.
Sue will describe for you why it's so dangerous to use treats and how you could be ruining your horse if you do.
Throughout this video, Sue uses three different horses to fully describe every method and the entire process she uses to teach these tricks.  She not only tells you what she's doing, why she's doing it but she shows you each and every step with these three horses.
She discusses all the safety concerns including where to stand, how to handle the aids, why she does things the way she does – all for the safety of you and your horse.
Sue has successfully trained dozens of horses these tricks and knows how to do it effectively.
The result?  A safe horse who can show off on command.  It's a lot of fun and a great way to work with your horses to do other things besides just riding.  It's especially fun to work with young horses before they are old enough to ride.
So – if you're ready for some fun and have been looking for other things to do with your horse – I urge you to get Sue's trick training video.
Just think how much fun it will be to show your friends and family what your horse can do!  They be amazed and excited for you.
Click the button below and we'll ship your DVD to you right away.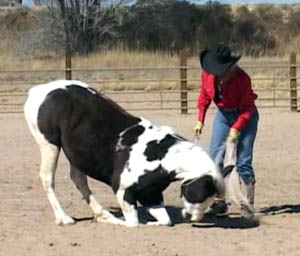 Sue showing how she teaches her horse to pray!
---
Get Your Own Sue Robertson
"Teaching Basic Tricks" DVD
Only: $27.95
(plus s/h)

Wait…  you might want this, too:
If you want to buy BOTH the Basic Trick Training DVD  and the Jesse Beery 8 Volume Course printed books then we will take 20% off the bundle.  Simply click the link below to order both at the special bundled price of only:
Special – Get Both:
Sue Robertson Trick Training DVD
PLUS
The Jesse Beery 8 Volume Course in Horse Training
(Book 8 is all about teaching tricks)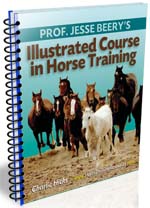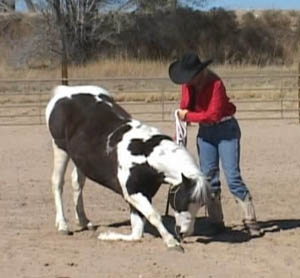 Get the Beery Course AND The Trick Training DVD