How To Lunge Your Horse, Teach Him To Lead,
Teach Him To Come To You, And Drive Him From
The Ground To Keep YOU Safer In The Saddle!

At last! Discover the easy-to-do horse training techniques
designed to keep your horse from accidentally hurting you.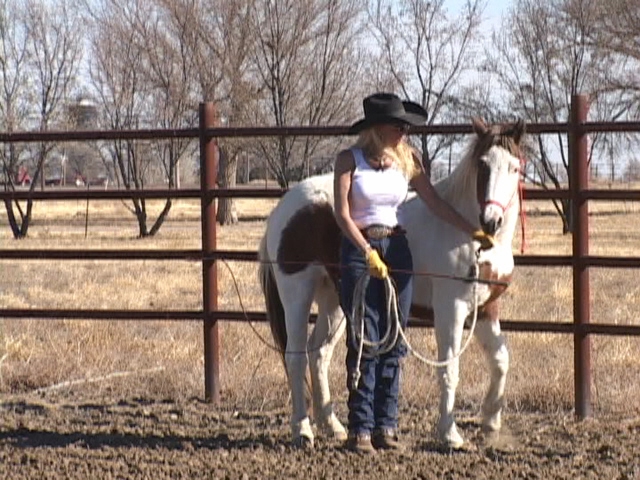 Dear Friend,
If you want to see how to easily lunge your horse like a pro (and why), teach him to lead and come to you when you want…then you MUST see this DVD.
Here's what it's all about…
We filmed pro horse trainer, Sue Robertson, showing you four valuable pieces of the horse training puzzle.
Why are they so valuable?
Because they are designed to keep your horse from hurting you and doing what you ask.
So the first thing we asked her to show you is how to lunge your horse – but more importantly, we asked her to explain why.
After all, you don't lunge a horse just for the sake of lungeing.  She shows you when to do it and why you do it. You must know this information because…
You will be shocked by how much safer
you can make your horse!
Next, Sue shows you how to teach your horse to lead.  You may think this is a very basic exercise but a horse that leads good is a much safer horse.
Do you "really" know if your horse leads good? Do you know how to tell if your horse is safer for you by the way he leads?  You will once you see what Sue reveals.
Next…
Stop Chasing Your Horse Once And For All!
Sue shows you how to get your horse to come to you.  If you have trouble catching your horse and he won't come to you…here is how you will easily solve this frustrating problem.
Once you've seen what Sue shows you, you will be an expert at things like:
How To Use One Of The Best Safety Techniques In Horse Training Today! (Plus, Do It From The Ground Before You Poke One Foot Into The Stirrup!)
The #1 Cause Of Deadly Wrecks With Your Horse! (Plus, The Right Way To Avoid It!)
How To Teach Your Horse To Brave Scary Things Above Him While Mimicking Things Like Fumbling In Your Camera Bag, Unfolding Your Rain Poncho, And More! (And Easily Do It Using This Common Household Item That Costs Less Than 1 Cent!)
Think Your Horse Is Broke?  What Little-Known Danger You May Not Know About!
The #1 Secret Of Riding Your Horse That Makes Your Horse Know YOU Are In Charge! (Even If He Spooks And Thinks A Mountain Lion Is About To Rip Him Apart!)
Why Horse Owners Have A Horse That Walks All Over Them And How To Stop It Almost Immediately!
Amazing Trick Teaches Your Horse To Come To You Like A Powerful Magnet! (Stop Chasing Your Horse For Good!)
And that's just the beginning.  Here's more of what you'll know:
How To Get Your Horse Always Giving You His Best Try! (You Unknowingly Be Teaching Your Horse To NOT Want To Cooperate With You- Here's How To Know!)

The 4-Point Safety System You Must Install In Your Horse Before You Get On Him

Or Risk Getting Hurt! (These Are Easy To Do Too!)
What 6 Important Points To Teach Your Horse While Driving Him! (Keeps Your Horse From Hating To Be With You Because Now He Won't Be Fighting With You!)
How To Get Your Horse To Teach Himself To Give Automatically! (Makes Him More Obedient For What YOU Ask!)
How To Use The Astonishing Power Of A Square Pen To Get Your Horses Legs Under Himself And Step The Front Leg Over The Other! (Makes Your Horse More Compact And Therefore Easier To Ride!)
Amazing Trick Nearly Automatically Makes Your Horse Light In The Front End! (A Horse Light In The Front End Turns Easier, Stops Easier, Is More Responsive, And Far More Able To Do What You Want!)
The Kindergarten Technique:Teaches Your Horse Two Things At Once!

(See How To Sneak In An Important Lesson To Your Horse Without Him Knowing It!)
And listen to this….
Sue shows you the amazing moment where respect starts coming from your horse and how you can easily get it.  Why does this matter?
Because when you get your horse's respect…
You will have more success, fun
and safety with your horse!
Here is still more of what you will know:
How To Gently Use A Lunge Whip To Desensitize Your Horse To Lots Of Spooky Objects! (Remarkable Ways To Make Your Horse Calmer Than A Summer Evening!)
How To Teach Your Horse To Feel Your Reins BEFORE You Crawl On Him And Ride! (Gets Him Accepting What You Do Before You Ride Him And

Makes It FAR Safer For You!

)
What Your Horse's First-Alarm-System-Trigger Is! (Plus How To Use It To Keep You As Safe In The Saddle As Possible!)
Why, When, And How You Should Lunge Your Horse! (Discover The 5 "Different" Reasons To Lunge Your Horse And Why It Matters!)
The One Sure-Fire Sign To Know If You Own Your Horse's Respect! (For Your Own Safety, You Must Know This!)
3 Step Process To Start Your Horse Lunging Safely And Correctly!
How To Tell If Your Horse Is Getting A Painful Shock To His Brain With His Bit And Putting You In Danger! (If This Happens, Your Horse Won't Learn And May Be Dangerous And Out Of Control – Prevent It With This!)
What's more, Sue shows you the incredibly effective "Control-Your-Horse" tools you already have right now!
Thus…
These tools are free, easy to do, and
work better than you can imagine!
But wait.  There's still more. You also get:
Simple 7-Step, Lead-Teaching System For Your Horse!
How To Avoid Overusing The Lunge Whip During Training And Keep From Ruining Your Horse! (Here's The #1 Tip That Tells You To Back Off Now!)
How To Teach Your Horse To Whoa Using Leading!
"C" Rule Trains Your Horse Into An Obedient And Safe Masterpiece!
How To Know When To Quit Your Horse When Teaching Him! (Makes Him Learn Faster!)
How To Know What Makes Your Horse Safer And More Responsive –

Even If You Don't Know What To Do

!
Valuable Trick Gives You Control Of Your Horse! (Makes Your Horse Riding Much More Fun And Successful!)
And here's another exciting thing you'll want to use- and that is knowing this about your horse's observation skills because it…
Keeps you as safe as possible –
especially when you're in the saddle!
And I'm still not done.
Here's even more of what you'll know:
"Grand Pa Secret" Keeps Your Horse From Getting Mean And

Makes You A Better Trainer!

(You'd Be Surprised How Many Pro Trainers Don't Know This And Actually Make The Horse Have An Attitude Problem!)
How To Avoid Getting Run Over And Stomped On When Teaching Your Horse To Lead!
Should You Use A Short or Long Line When Lunging?  Here's What You Should Know!
Quick Trick Gets Your Horse Used To Ropes Fast! (Plus, Exactly When You Stop Doing It!)
How To Correctly Use A Lunge Whip To Get The Right Results From Your Horse!

(Plus, How To Use The Lunge Whip Safely, Gently, And Effectively Without Hurting Or Scaring Your Horse!)

How To Keep Your Hands And Fingers From Getting Ripped Off Your Arm When Lunging Your Horse With A Rope!
Exactly What To Do If Your Horse Won't Move Out At The Beginning Of Lunging!  (Use This Friendly And Effective Request To Get Your Doing What You Ask!)
How To Avoid Having A "Half Broke" Horse! (How Broke Is Your Horse? A Half Broke Horse Is A Dangerous Horse!)
Horse Not Paying Attention To You While Driving Him?  Do This! (Teaches Them To Put Their Head Down And Pay Attention To You Like You Are All That Exists!)
As you can see, there is an amazing amount of valuable information waiting for you – and this is just the tip of the iceberg.
I could tell you more but I think you get the idea.
Thus, it's time you get your own copy of this exclusive DVD.
It's simple to get your DVD.  Just click the Order Button below and fill in your information.
I will personally make sure your copy is sent to you as soon as humanly possible.
I am confident you're going to love this video.  So, please…order this video now because if you don't know Sue's information, you might want to hurry and catch up to the others enjoying their wild-success using Sue's knowledge.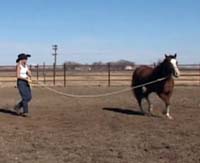 Get Your Own Copy of Sue's
"Groundwork" DVD
Only: $29.95
(plus s/h)