How To Float In The Saddle
And Ride With Confidence!
If you ever wondered how expert riders stay in the saddle so easily and ride with the breath-taking grace of an Olympic gymnast, then you are just about to see their secrets because I am exposing them now!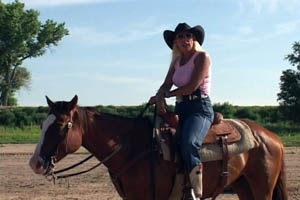 Sue telling how she rides.
Don't you hate when you slide around in the saddle and you're pretty sure you're not riding right?
Then you worry about your horse suddenly turning because you might just fly right out of the saddle onto the unforgiving, hard-as-concrete dirt.
Worse, you're not quite sure if your legs and feet are where they're supposed to be.  And then you wonder if it's really THAT important where you put them. (It is, by the way.)
All these things (and more) can make you feel unsafe while riding your horse.  And when you feel unsafe, it's hard to have confidence.
What's more, without confidence you can't ride safely or correctly.
And that means you just don't have as much fun as you really could.
But here's good news…
If you wish you could ride better with more confidence, then get ready to transform your riding ability by knowing:
How To Safely Stay In The Saddle If Your Horse Spooks Using The Little-Known "Shock Absorbing Position"! (Keeps You From Hitting The Dirt Better Than Any Tip We've Seen Yet!)
Why Pointing Your Toes Like This

Keeps You From Shooting Forward Off The Saddle

Like A Rocket!
A Key Saddle Secret You Must Know That Holds You In The Saddle

Almost Like Velcro

!
Why You May Be Pushing On Your Horse's Kidneys And In Danger Of Getting Bucked Off! (Simple Riding Adjustment Fixed In 2 Seconds!)
Simple & Quick Way To Find Your Seat Bones – Discover How To Rock Your Hips For Maximum Comfort And Safety!
How To Position Your Stirrups And Keep Your Horse From Throwing You Like A Rag Doll If He Spooks! (

You Will Be Amazed How Much More Confidence You Have

Once You Know This!)
How To Align Your Body While Sitting In The Saddle For Maximum Safety And Comfortable Riding!
And that's just the tip of the iceberg.
Here's more of what you'll know:
Exactly How To Point Your Heels So Your Legs Stay In The Right Riding Position!
What Crucial Part Of Your Body Is Actually "The Float" When Floating In The Saddle!
"Water Trick" Keeps Your Shoulders Relaxed While Riding! –

Teaches Your Body To Absorb Shock As Your Horse Moves

And Keeps You From Feeling Beat Up!
How To Ride Your Horse's Lope With The Grace & Rhythm Of An Expert Dance Partner! (Plus, Do This If You Want More Lope Action From Your Horse!)
What Two, Dangerous Quirks Your Saddle Should Not Have If You Want To Stay Locked To The Seat!

What REALLY Holds You Down On Your Horse While Riding!

(And It's Not Wrapping Your Legs Around Your Horse's Body!)
Amazing "Dollar Bill Tip" Teaches You To Stay Glued To Your Saddle! (If You Have Trouble Finding Your Seat, This May Be Your Solution!)
And listen to this.
You will see how to pick a saddle that keeps you nearly clamped to the seat so you don't slip off yet it's about as safe as a saddle can be!
Plus, you'll discover what saddles to avoid riding in because they may be dangerous for what you're doing – here's how to tell.
Thus, you will see…
How to pick the right saddle
for the type of riding you're going to do!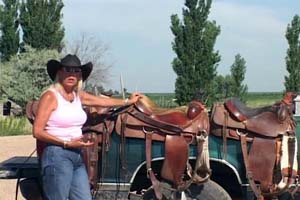 Sue showing different saddles and their differences.
Why is that important?
Because you will be amazed how important the right saddle can solve riding problems – FAST!
In fact, you may already be a good rider but your saddle may be destroying your confidence – here's what to know.
Here's even more great things you will see:
When You Should And Should Not Post While Riding!
The "Buckle Rule" That Tells You If You're Riding Your Horse's Extended Trot Correctly! (If not, you may feel like you're on a bicycle with flat tires riding across railroad ties – here's what to look for.)
How To Feel Your Horse's Rhythm So You Can Ride With Him…Instead Of Against Him!
Saddle Not Fitting Right?  Don't Buy Another One – Simple Adjustment May Fix It Instantly!

(And It Doesn't Cost You A Thing!)

Why

This Saddle

Is Wrong For Trail Riding! – Use This Kind Instead So You Stay Glued In The Seat! (Even Up And Down Steep Hills!)
Worried About Getting Hung Up In The Stirrup And Dragged By Your Horse? 

Here's How To Quickly Save Yourself!

"Rein And Mane Rule-of-Thumb" That Gives You Valuable Control Of Your Horse In Case Something Goes Wrong While Getting In The Saddle!
And here's another thing you'll know that lots of riders don't.
Did you know something about your cinch may actually cause you to give your horse clumsy signals with your legs?  That confuses your horse and can result in a dangerous wreck for you – but now…
Know how to fix it in 30 seconds!
What's more, if you've ever had a bumpy, teeth-rattling ride on your horse it may be as simple as this $20.00 item to fix it.  Just attach it once and never worry about it again.
And there's more you will know like:
The "No Air" Riding Rule! (Is One Of The Best Ways To Keep From Falling Off Your Horse!)
Why The Stirrups You Ride In May Be Putting You In Danger! (Use This Kind Of Stirrups To Sit Deep In The Saddle And Stay Safer!)
How To Tell What Size Saddle You Need! (Helps You "Feel The Float" In The Saddle And Ride Smoother!)
Two Rules To Check If Your Saddle Fits You Correctly! (And If Rule #1 Is Violated, Do NOT Buy That Saddle!)What Body Part You Should Never Use To Make Contact With Your Horse
While Riding Except In These Instances!
Not Sure If Your Stirrups Are Too Long Or Too Short!  Here's A Quick, Easy, And  Reliable-Every-Time Test!
Do You Have The Right Saddle? If Not, Adding This $40 Item May Be All You Need! (This May Save You From Spending $100's Of Dollars On A New Saddle…And You Will Be Amazed At The Difference In Your Riding!)
And here's something you definitely need to know.
There's a tiny piece of equipment your saddle may be missing and if it is, you may be in for a dangerous accident.  You will see how to check for it – and if you need to fix it, you can do it for less than a dollar!
Now THAT's good to know.
Not only that, you'll also learn:
Little-Known Saddling Tip That

Keeps You From Getting One Of The Most Common Injuries!

Shocking Reason Your Horse Isn't Paying Attention To You While Riding Him – And How To Get Him Paying Attention For A Smooth, Responsive Ride!
Feeling Wore Out And Beat Up From Riding?  This Is Probably Why! (Plus, Here's How To Fix It Fast!)
How To Choose The Right Breast Collar For Your Horse! (Plus, How To Make Sure It Doesn't Choke Him!)
The Truth About When To Use Your Spurs! (Plus,

What Your Spurs Are Truly Meant To Do

…And It's Not To Make The Horse Go Faster!)
What Two Key Traits Your Boots Must Have – Keeps Your Feet From Getting Trapped In The Stirrup!  This May Save Your Life If You're Ever Thrown From Your Horse And He Bolts!
How To Make Sure Your Rein Doesn't Get Caught In The Breast Collar And Put You In Danger!
And you'll also see what the #1 mistake is that riders make with their horse.  Nearly all inexperienced riders do this (even some experienced ones do) and don't even realize it.  Now you won't!
What's more, you'll learn what kind of boots you should ride in by the stirrups you use with your saddle.  Why does it matter?  Because…
You stay safer by making it harder to trap your foot in the stirrup!
And that's STILL not all.
You also learn:
How To Use Your Reins To Tell Your Horse Everything Is Okay! – Keeps Him Calm And Rideable! (You Will Be Shocked How You May Be Worrying Your Horse And Making Him Dangerous To Ride – Here's How To Tell And How To Fix It!)
How To Unbridle Your Horse And Avoid Frustrating Bridling Problems!
How To Make Sure You Tighten, Buckle, And Strap Everything On Your Horse Before Riding! (Clever Trick Keeps You From Forgetting To Fasten Everything So You Don't Have A Serious Accident!)
What Type Of Cinch Fits Your Horse Best And Won't Gall Him! (Plus, How To Know The Exact Cinch Length You Need!)
#1 Enemy That Dries And Cracks Your Tack And Makes The Leather Weak And Thus Dangerous!  (And How To Keep It From Happening!)
How To Tell Where Your Horse's Cinch Ring Should Fit Once Saddled!
Why You May Be Getting In Your Horse's Way Without Knowing It! (Once You Stay Out Of Your Horse's Way He'll Be Easier And Safer To Ride!)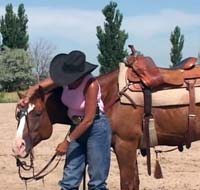 Sue showing proper bridling techniques.
As you can see, there is an amazing amount of valuable information waiting for you – and there's more than what I've told you.
I could tell you more but I'm sure you get the idea.
Thus, it's time you get your own copy of this exclusive DVD.
It's simple to get your DVD.  Just click the Order Button below and fill in your information.
I will personally make sure your copy is sent to you as soon as humanly possible.
I am confident you're going to love this video.  So, please…order this video now because if you don't know Sue's information, you might want to hurry and catch up to the others enjoying their wild-success using Sue's knowledge.
Get Your Own Copy Of The
Sue Robertson
Riding With Confidence DVD
Only $39.95
(plus s/h)
Click Here to Order Your DVD NOW
---


Your Order Is Secure and Is Processed By 1ShoppingCart
---
Prefer to order by phone?
Click HERE For Phone Ordering Instructions