Sarah Jarvis – Feather Lite Rein Control 
New Lower Price!
"How To Teach Your Horse To Respond
To Your Rein Aids With
FEATHER-LITE Control!"
Discover how to get your horse moving off your cues
with such subtlety that people watching you may wonder:
"Is that horse reading his rider's mind.
How did they get that horse to do that!?"
Plus, get a truck load of valuable horse training tips
you can pull out of your hat and use anytime you need them!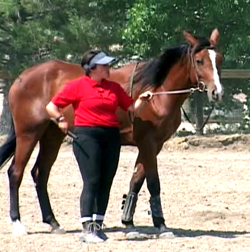 Sarah Jarvis during a training session.
Dear Friend,
If you want know how to get your horse to respond to your rein aids with laser-like precision and impress fellow riders with movements that look nearly impossible to get from your horse (yet you can!), then you gotta see this DVD!
Why?
Because you'll know how to:
The #1 Golden Rule Called "Stay With The Horse You Have" And What It Means! (

You Must Always Follow This Rule

Or Risk Dangerous Miscommunications With Your Horse!)
How To Tell,

Without ANY Doubt

, If You Have Applied The Rein Aids Correctly! (Hint:  It's Not Even A Conscious Move On Your Part – It Happens Nearly Automatically!)
The Simple 4-Step Process Of Teaching Your Horse The Indirect Rein! (And If He Moves Forward When Teaching Him, Do This To Quickly And Easily Correct Him!)
The "Aiming Your Horse's Shoulder" Trick! (Creates Amazing Movements That Look Like Your Horse Is Reading Your Mind When You Ask Him To Move!)
What To Do If Your Horse Is Leaning On You While You're In The Saddle! (This Surprising Fix Is Quick, Painless, And Highly Effective!)
How To Start The Rein Aids Under Saddle! (Plus, Here's Why You Do This In A Round Pen Or Enclosed Area!)
The Precise Process Of Teaching Your Horse How To Move His Hip When You Apply The Direct Rein! (This Detailed Explanation Show You How To Do It Right So Your Horse Understands What You Want!)
What's more, you'll discover what to pay attention to when your horse backs.  You may think it's simply stepping backwards, but there's more to it than that.  There are two ways your horse will back and THIS is what you want him doing.
The best part is…it's easier to teach to your horse than you'd think.
Here's more of what Sarah shows you:
How To Use "Subtle Rope Friction" To Cue Your Horse For Certain Responses! (Plus, Exactly What To Do If Your Horse Walks Off After You The Cue!)
How To Tell If You Or Your Horse Is Doing Something Wrong In The Halt! (Plus, A Little Trick That Stops Your Horse Moving Forward Like He Hit A Brick Wall!
How To Use The Direct And Indirect Rein To Start Teaching The Rein Aids! (Plus, Here's A Killer Way To Remember Which Is The Direct Rein And Which Is The Indirect Rein So You And Your Horse Never Get Confused!)
How To Tell What Size Snaffle Bit Works Best In Your Horse's Mouth! (For Instance, If Your Horse Is Short Lipped Like This, Then This Is The Snaffle Bit You Should Use!)

How To Get An Award-Winning Half Pass From Your Horse!

(Plus, Here's What To Do If You Start Losing The Half Pass!)
How To Start The Process Of Teaching Reining Aids Using The "Dance Position"! (Discover How To Hold Your Hands While Teaching Your Horse This Crucial Leading Exercise!)
What To Do Next Once Your Horse Understands The Direct And Indirect Rein! (It Can Get A Little Complicated So Be Sure To Do This!)
Also, Sarah shows you a clever way to use your horse's ears to check if you're leading him correctly.  All you have to do is look up and check your horse's ears like Sarah says and you'll know in 2 seconds if you're doing it right or wrong.
What could be easier?
There' more.
If you ever asked your horse to do something but he didn't do it very well…does it matter?  Sarah reveals what's more important – Obedience, or how well your horse does what you ask.  Here's what you should know and why it's important.
And it doesn't stop there.  Here's even more of what Sarah reveals:
Halter Secret Gets Your Horse Backing Better If He's Sluggish!
Horse Leads Too Fast Or Lags Behind?  Here's How To Quickly Fix It! (Here's What Pace You Should Set And What To Do When He Doesn't Match Your Pace!)
The

Step-By-Step Process

Teaches Your Horse The Halt! (Pay Special Attention To These Body Positions So Your Horse Learns What You Want!)
How To Adjust The Bit To Your Horse's Mouth! (Discover How Low The Bit Should Be In Your Horse's Mouth –

Plus, Whether Or Not It's Okay For His Tongue To Be Over And Under The Bit!

)
How To Teach Your Horse The Halt When Introducing The Bit! (See How Sarah Carefully Uses Her Finger To Move It So The Horse Learns To Stop!)
How To Skillfully Teach Your Horse To Seek His Place When He's With You!
The

"Bulge Test"

Determines If You Need To Adjust The Bridle To Keep Your Horse Comfortable! (Forget The Mouth Wrinkles – Most People Get This Wrong!)
And when you're teaching your horse the halt, Sarah explains why you might not be getting a good one and how to fix it – fast!
Plus, Sarah reveals when to introduce to your horse the concept that the primary rein is not the directional rein.  But don't worry if it sounds confusing, it won't when you watch Sarah explain it.
There's still a lot more Sarah shows you. Look at this:
Is Your Seat As Good As It Could Be?  Why You Might Need To Take A Few Seat Lessons Because Of The Subtlety Your Rein Aids Require!
How To Continue Teaching The Half Halt From The Saddle! (Now You're Adding Your Seat And Legs And Your Horse Must Learn What They Mean –

Here's What To Do!

)
An Effective Suppling And Balancing Exercise

You Should Do With Your Horse

While Walking! (Uses The Direct And Indirect Rein Taught In The DVD!)
3 Step Process Of Reversing The Half Halt That Asks The Horse To Move Forward! (Done Correctly, Your Horse Knows To Go Forward With Propulsion!)

What 2 Traps You Must Avoid

When Teaching Your Horse Reining Aids! (If This Happens, You WillRun Into A Brick Wall – Here's How To Avoid It In The First Place!)
Horse's Hip Moves Out When Halting Your Horse From The Ground? Try These 2 Quick And Easy Solutions!
How To Make The Transition From The Halter To The Bridle With The Rein Aids! (Now You're Throwing In The Bit And It Will Act Differently – Here's How To Make The Jump!)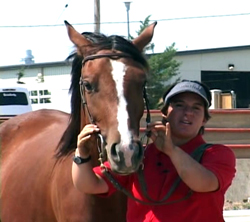 Sarah Jarvis describing how to adjust the bridle
Understandably, some of this may sound a little confusing.  But it won't once you watch Sarah explain it in her DVD.
For instance, there's a part where Sarah shows you how to tell if your horse hates his bit.  You'll discover what to look for and you'll know when to change his bit.  That way, you'll get more cooperation from your horse and get his undivided attention. (Without his attention, you can't teach him anything!)
Here are even more things Sarah shows you:
What To Do If Your Horse Incorrectly Turns Toward You After The Half Halt! (This Indicates Your Horse Doesn't Understand The Half Halt – Here's What You Do To Solve It!)
How To Teach Your Horse To Respect Training Aids And Not Fear Them So

He'll Learn What You Want!

(Plus, How To Get Him Comfortable With The Movement Of Training Aids So He Knows They Won't Harm Him!)
Why You Begin Your Under Saddle Work With Just One Rein On A Single Side!

What 4 Important Things Must Happen

Before You Introduce The Halt! (Follow These Simple Instructions And You Will Have Great Success With Your Halts!)
Exactly When You Start Teaching Your Horse The Rein Aids! (Start Too Soon, And You Risk Confusing Your Horse And Creating A Dangerous Monster – Here's Your Guideline To Do It Right!)
How To Use Your Horse's Neck To Set Your Boundary And Create Your Space!
As you can see, there is a LOT of information in Sarah's DVD. And this is only a sample of what you will see.
In fact, you will see information so many people don't know, your friends will wonder how you got your horse to do the things you teach him.
Won't that be fun to keep them guessing?
After you watch Sarah's DVD, you too will have valuable and little-known knowledge not 1 in a thousand people know.
Plus, I truly think you'll be impressed with Sarah's ability to teach because she is crystal clear about what needs to be done.  I'm convinced you'll walk away from watching this DVD ready to show your horse what to do.
After all, Sarah's highly qualified.
In fact, listen to this.
Sarah has a degree in Equine Science from Colorado State University.  Colorado State University is famous for it's animal science – especially its Veterinarian school.
As a matter of fact, Sarah was poised to go to Veterinary school but ultimately chose not to.  Even so, she has a strong background in Equine Science.
After college, Sarah moved to Indiana to work with horses.  Later, she moved back to Parker Colorado and worked at a private Morgan horse breeding farm where she was one of the trainers.
She later went to work for a nationally competitive Morgan Show barn and soon found herself longing to help horse owners achieve the dreams with their horses.
Today, Sarah still helps horse owners with their horses and loves bringing horse and rider together and getting them on the same page.  It's her biggest satisfaction.
As you watch her in the DVD, you'll see how good she is at teaching.
In fact, Sarah's information is unique and effective and I guarantee you will be glad you own it – I can say this because we have filmed a LOT of trainers and have NEVER come across someone teaching this.
Plus, you will get a lot of great tips, tricks, and techniques from the DVD.
Onward.
It's simple to get your video. Just click the Order Button below and fill in your information.
Get Your Own Sarah Jarvis
"Feather Lite Rein Control" DVD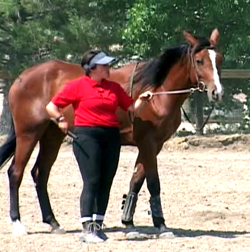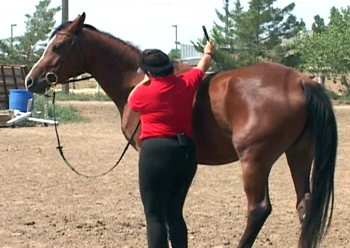 Sarah Showing Direct and Indirect Reining Techniques
Get Your Own Sarah Jarvis
"Feather Lite Rein Control" DVD
Only $34.95
(plus s/h)