How To Install An Operating System
In Your Horse (And Yourself)!
NEW: Now Available On Amazon



Get Your Horse Turning, Bending,
Giving, Stopping, And Cooperating
Like You Never Thought Possible!
Plus,  Easily Get The Correct Lead…Every Time!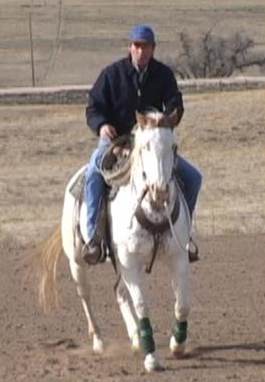 Sam Burrell showing how easy it is
to get the correct lead
Dear Friend,
When you watch this video you will know:
The 5 Rein Effects and how to use them to get the results you want!

Where and how to position your legs and get your horse to respond like he's done it all his life!

The 4 Critical Zone Exercises that teach your horse (and you) how to put everything together!(Watch your horse do amazing movements quicker than you thought possible!)

The Problems You'll Encounter Teaching Your Horse And How To Breeze Right Through Them!

The real test if your horse is truly halter-broke!

How to work with the 4 parts of your horse to teach him exactly what you want!

How teach which exercise at each gait!

How to tell if your horse is leaning to either side! (And the

instant fix

to correct it!)

How to tell if your horse is dropping either his inside or outside shoulder!

The exact shoulder posture your horses must have to keep his hips balanced! (No matter if you're into dressage, trail riding, hunter jumping, etc., you must know this!)

Horse keep going forward "after" you pull his head around?  Here's why! (Plus, use this to fix it!)

How and why to teach your horse to walk a reverse arc! (It's not near as hard as it sounds!)

What little-known tip Sam says you should learn! (Be able to talk with any pro after you know this!)

How long it takes your horse to learn the Operating System! (And how long it takes for him to get REAL GOOD at it!)

The right way to apply leg and rein pressure using Sam's "Kick the Ball" metaphor! (You'd be surprised how many horse owners mess this up – if you've had trouble before, betcha this'll fix it!)

Horse doesn't have much "giddy-up"?  The answer to this problem will surprise you!

Horse won't stop as fast as you think he should?  Amazing trick will teach him to thrust his hind legs under himself and stop like a champion!

The Pre-Cue secret! (Creates a more responsive horse!)

How to keep your horse from being heavy on the reins!

Does your horse do what you say or does he do what you mean?  Why this is often the rider sending the wrong message and how to fix it now!

Horse riding faster than you want but you can't control him?  Here's one of the best tricks you could ever learn!

How to train like a pro by understanding what the horse is feeling! (Discover what two critical things to watch for!)

Why your horse doesn't do what you want! (This is the reason 99 times out of a 100!)

How to get your horse to enjoy working with you! (Makes him so much more willing and easier to teach!)

How to know the exact moment to stop your training for the day!

How to know if your horse is "burned out" from training! (Discover how to get him re-excited about training!)

Horse's performance dropped off?  Don't assume it's a bad attitude.  It's likely one of these 5 things!

What you must establish in your horse's mind or you will

always

have trouble teaching him!

Sam's observation of the four most common mistakes horse owners make and how to avoid them!

How to build a "Smart Spot" on your horse so he knows what the pressure means!
And there's more.  A lot more.  I could go on for another 30 minutes…but if I haven't convinced you that Sam's video is a must watch by now, I never will.
          In this exciting video, you learn the horse training secrets of Sam Burrell.
          Skeptical? Is Sam as good as I say he is?
          For starters, he would not be one of our featured trainers if he wasn't.
          Secondly, when you're done watching this video I'll bet you watch it at least 3 more times because it is exciting and the information is something you will definitely want to absorb into your memory.
          Third, we just received a raving testimonial about Sam's video.  Jeanetter Rothrock (address withheld for privacy) said:
"…I LOVED the Sam Burrell video
it was great, very informative,
very easy to follow, and an even
better way to do a couple things
that I'd been researching!!!"
          And in case you're wondering, Sam learned his phenomenal horse training knowledge in California.
          He's rubbed elbows with some of the most famous horse people around such as Dr. Robert Miller, Ray Hunt, and others.
          Sam specializes in Operating Systems for horses which allows the rider to communicate to the horse where the horse understands what the rider wants.
          Onward.
          It's simple to get your video.  Just click the Order Button below and fill in your information.
          I will personally make sure your copy is sent to you as soon as humanly possible.
          I honestly believe you're going to love this video.  So, please…don't pass up this video…this is information every horse owner should know!
---
Get Your Own Sam Burrell DVD
New SALE Price!
Only $39.95
$29.95
(plus s/h)

---


Your Order Is Secure and Is Processed By 1ShoppingCart
---
Prefer to order by phone?
Click HERE For Phone Ordering Instructions