How To Teach Your Horse To
Respect Your Space, Build Trust,
And Keep Him From Injuring You!
Includes The Amazing Benefits of Leading your Horse!
Dear Friend,
In this video, you will learn one of the most important things you should know when it comes to horses.
Why?
Because it's about having a respectful horse that is safe to be around.  Having a horse like also makes him easier to train.
What will you learn as you watch this video?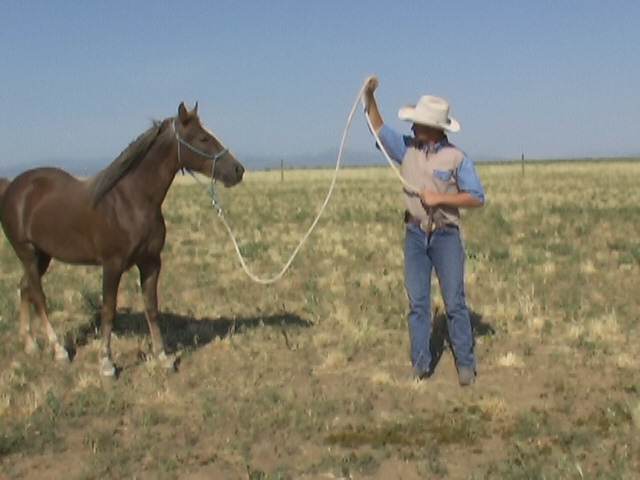 Paul Esh teaching a wild Mustang to stay in his own space
You will know:
The first thing you must do

before

working with your horse! (Teaches him one of the most important lessons!)
Horse ignoring you?  Here's why and here's the quick and easy fix!
What your #1 horse training tool is and how to use it! (It's free and you already have it!)
Paul's famous discovery of what really makes a horse move when you want him to! (Get your horse to move out of your space in a flash!)
The 3-L secret that gets consistent, reliable, and effective results! (Having troubles?  Betcha this'll fix it!)
How to use the almost-hidden language of horses and get striking stops,  tight turns, trust and respect! (When one of our SuperStar trainers accidentally discovered this, he became a master horse-problem-solver…and it's something about anyone can do!)
What your best horse training tool really is! (It's free, it's effective, and it's reliable as the sunrise – Plus…you already own it but probably have no idea of its potency!)
How to begin every session with your horse! (Gets your horse 

wanting

to be with you, 

wanting

to be caught, and 

wanting

to do what you ask!)
Why you must never destroy these two characteristics in your horse! (Plus, how to use them as two of your best and most powerful horse training tools ever!)
What the 2 most common mistakes are that horse owners make! (And how to fix them…FAST!)
Exactly how to work with your horse because you discover THIS about him! (Primes your horse in synchronization with you – accomplish feats with your horse that seemed impossible yesterday!)
There's more!  Check this out…
Why it almost never matters what "trick" you use to get your horse doing something! (What really counts are these two simple rules nearly anyone can do!)
How to pilot your horse like a pro trainer and soften his movements in nearly any direction or position you like!
The "Opposite Rule" that convinces your horse to do what you want –

not what he wants

! (Any frustration will fade almost immediately once you start using this!)
What #1 thing

you must control on your horse

in case he explodes out of control with you in the saddle! (If your horse ever tries anything dangerous, use his built-in kill switch!)
The "Rhythm Rule" that almost magically forces a horse to move as you need or want! (And is the perfect frustration eliminator when your horse acts up!)
There's still more…
The #1 reason horse owners fail to get their horse moving like they want! (Simple adjustment compels your horse to glide with energy and purpose!)
Which two personality characteristics to look for in horses because it's easier to train them! (If you have trouble with a horse

perhaps it's more the horse than it is you

– here's how to tell!)
Horse won't stop while leading him? This 3-point plan signals his brain to freeze in his tracks! (It's safe, humane, and works like a charm!)
Horse ignoring you? 4 second trick triggers his attention on you and ONLY you! (It's harmless yet powerful in commanding your horse's attention!)
Bored horse? How to tell and why it may be the cause of a nagging problem!  (Plus, here's how to "un-bore" him and get double the results!)
Is Paul really that good?
Let me describe his background then you decide.
Paul stepped through the school of hard knocks and squeezed out the other side with an ability most would envy.
When I filmed Paul, we shot video of him and an $80,000.00 horse he was training for a client.
Can you imagine that?
Paul's training a horse worth more than the average American home. And why does the owner trust Paul with his $80,000.00 horse?
Because Paul gets Hall of Fame results – and his clients know it.
And there's even more to Paul's remarkable success.
Paul also has clients who bring their horses to him from several different states including North Dakota, Montana, and Texas.
Since Paul lives and trains in Colorado….do you think these horse owners would spend several thousand dollars for training and transportation of their horses if Paul wasn't that good?
No way.
And not only has Paul worked with a Silver and Bronze Olympic Medalist in Dressage, he is the horse trainer of choice for the Weld County Sheriff's Posse in Colorado.
Ask a member of the Weld County Sheriff's Posse about Paul and they'll tell you, "Not only is he worth his weight in gold, we don't dare do without him!"
Paul gives private riding lessons.  He also hosts horse training clinics where you can learn to "Tune up your horse", ride with confidence, work cattle, solve problems, and create unity with your horse (just to name a few).
What's more, Paul was born in an Amish family in Pennsylvania.  The Amish are famous for raising and training horses.
The Amish are gifted horse trainers and have trained horses for hundreds of years.  They depend on horses for transportation.  Plus, they uses horses for farming like farmers use tractors.
Because the Amish depend on horses so heavily…they must train their horses for complete obedience and safety to survive.
Not only that, Paul's grandfather broke and trained many world-famous track horses.
Now that you know Paul's background, you can see why he's a horse trainer even impatient people willingly wait in line for.
Paul's specialty is fixing problem horses.  To date, he has not found a horse he couldn't fix.
And Paul does his magic at his own indoor horse training arena that measures 100 feet by 200 feet…complete with stalls.
So, please…don't pass up this opportunity.
Paul shows you horse training information every horse owner should know!
---
Get Your Own
Paul Esh DVD
Only $27.95
(plus s/h)

Your Order Is Secure and Is Processed By 1ShoppingCart
---