Paul Esh – One Rein Stop
One Rein Stop
SPECIAL DISCOUNT!
For A Short Time Only – See Below 
Do You Have A Horse That Won't Stop,
That Bucks, Rears or Bolts?
Learn To Maintain Control Of Your Horse
In ALL Situations, Ride Safely and Not Get Hurt!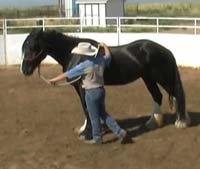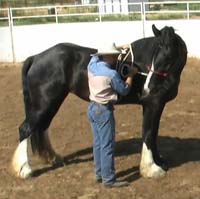 Dear Friend,
One of the most scary parts of riding is when your horse starts running out of control, starts bucking or just bolts! Unless you are ready for such events you can get hurt really quickly. Unfortunately, many new or untrained riders don't know how to safely control their horses in situations such as this.
Hundreds of riders get hurt every year. The natural response is to grab both reins and pull back hard on the reins and attempt to stop your horse. In many cases pulling back hard only makes the situation worse. A horse is strongest going straight with his hindquarters fully engaged and driving forward.
And sometime pulling straight back and up with the reins will cause the horse to rear – and frequently going straight over backwards and landing on top of you. Not knowing what to do can hurt or kill you.
A Safe Solution:
Professional trainer Paul Esh was filmed showing his method of teaching the One Rein Stop. The One Rein Stop is an emergency brake for your horse that works. Lots of professional trainers use the one rein stop when they work with untrained or poorly trained horses. It has saved their bacon lots of times!
Learning how to perform the One Rein Stop correctly is important. When used incorrectly, especially if you try it on a horse moving fast, it can throw your horse off balance too quickly and you and the horse may end up on the ground. It is something that needs to be taught and worked with on the ground first and then in the saddle under controlled conditions.
Paul Esh takes you through all the ground work first and then in saddle. He uses two different horses with different dispositions to show you how to do it. Paul is an excellent trainer and teacher and does an excellent job of leading you through not only the methods but the "WHY" of what and how he is doing.
Three Bonus Clips Are Included:
Besides the One Rein Stop instruction, we have also included three bonus training clips that we did with Paul. They are:
1. How to tie a lead rope hackamore-style to your rope halter use as reins for training. Paul shows you two ways to do it and uses this method for much of his training routines.
2. How to use the "Horseman's Stick" to help you train your horse. In this clip Paul shows you some of the little tricks he uses to train, encourage and control his horses while on the ground. So often simple methods like this are so useful but not well understood. This is a great lesson to learn from a pro!
3. Demonstration of Paul working with a stallion in his arena. In this clip Paul takes one of the stallions he has trained and shows you some amazing things he has taught this stallion to using some of the very methods he teaches in this DVD. Paul is an excellent trainer and it shows in this clip!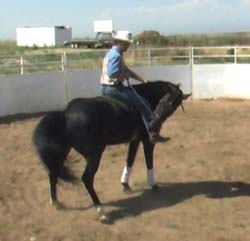 So Why Would You Listen To Paul Esh?
Is Paul really that good?
Let me describe his background then you decide.
Paul stepped through the school of hard knocks and squeezed out the other side with an ability most would envy.
It's not unusual for Paul to be training horses that are worth $50,000 – $100,000. Horses worth more than lots of homes folks live in!
Why do owners bring their horses worth this much to Paul?
Because Paul gets Hall of Fame results – and his clients know it.
And there's even more to Paul's remarkable success.
Paul also has clients who bring their horses to him from several different states including North Dakota, Montana, and Texas.
Since Paul lives and trains in Colorado….do you think these horse owners would spend several thousand dollars for training and transportation of their horses if Paul wasn't that good?
No way.
And not only has Paul worked with a Silver and Bronze Olympic Medalist in Dressage, he is the horse trainer of choice for the Weld County Sheriff's Posse in Colorado.
Ask a member of the Weld County Sheriff's Posse about Paul and they'll tell you, "Not only is he worth his weight in gold, we don't dare do without him!"
Paul gives private riding lessons. He also hosts horse training clinics where you can learn to "Tune up your horse", ride with confidence, work cattle, solve problems, and create unity with your horse (just to name a few).
What's more, Paul was born in an Amish family in Pennsylvania. The Amish are famous for raising and training horses – their livelihood depends on it!
Get The Paul Esh One Rein Stop DVD Now!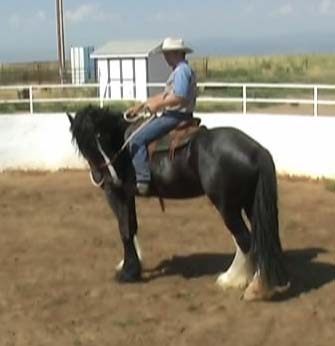 Are you ready to start riding safer?  Then the One Rein Stop is invaluable for you to learn.
Let Paul teach you how and keep it in your own bag of tricks to use on any horse in the future.
Get Your Own
Paul Esh "One Rein Stop" DVD
Click the Add to Cart button below now:
ONLY $39.00
SALE: Only $23.95


Remember – you also get the 3 Bonus Clips included with this DVD.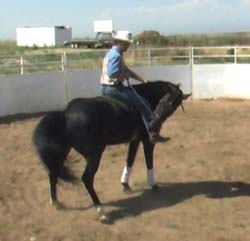 Read more about the One Rein Stop