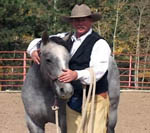 How To Eliminate And Prevent Deadly
Horse Riding Accidents Using
The Power Of The Little Things!
Price Reduced Right Now!  See Below…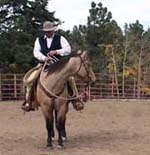 Plus, discover the quick and easy"4-step Pre-Ride Check System" and know in minutes if your horse is willing to give you a safe ride – You can do it in small, tight places…even in a horse trailer!
Dear Friend,
If you want to learn incredible horse training knowledge from one of the most respected trainers you'll ever find, then this will be a very important message for you to read.
Why?
Because once you see this you will know:
The Secret of Secrets Of How To Get A Horse To Soften When Giving!
4-Point Pre-Ride Check You Can Do To Quickly And Easily Tell If He's Mentally And Physically Ready To Ride!

(You Can Even Do It In A Confined Space Like A Horse Trailer!)

Incredible Behavior-Modification Secret

Changes Your Horse Right Before Your Eyes!

(Spooky Horses Quit Spooking, Pushy Horses Stop Pushing, And More!)

Saddle Danger

– How To Know If Your Horse Is Ignoring You And Putting You In Severe Danger! (And Exactly What To Do About It!)
How To Establish Leadership With Your Horse That No One Probably Ever Told Before! (Until Now!)
How Your Self-Talk Determines Your Horse's Behaviors And Response! (If You Are Having Horse Problems This May Be Why!)
And get this.
Since not every trick will work on every horse, if you ever get stuck and feel like you don't know what to do…here's good news.  You will…
Here's what Sandy had to say about Brad's DVD:
Hi charlie, i just finished watching "The Little things – Brad Meyers".  what a great DVD!
He had so many wonderful tips that are appropriate for anyone!  Just common sense things that should be used in every situation.  I especially liked the pre-ride checks.  I do a similar check, to make sure my horses are paying attention, but his checks are vital to make sure that your ride will be safe!  I also picked up another good way to use my mecate, and Brad also mounts up the way I was taught – I don't see many people do that!  If you get anymore from Brad Meyers I'd love to see them!
Thanks again for a great DVD!

Know Exactly What To Do
When Nearly Any Horse Training Technique
Fails To Get Results!
Now you won't have to suffer from not knowing multiple techniques to accomplish goals with your horse.
Next time you have a horse problem you can just smile because you will rarely, if ever,  hit a brick wall.  You will know what to do.
Won't that be wonderful?!
Here's more of what you'll know:
Outrageous "Leading Your Horse Mistake" Horse Owners Make That Cause A Horse To Run Off, Run You Over, Get Spooked, Get Worried, Trailer Loading Troubles, And More! (The Solution Is Embarrassingly Simple!)
The Anatomy Of Horse Problems And How To Prevent Them!
The Absolute First Thing You Must Do After Mounting Your Horse! (And If He Moves His Feet, Do This Until He Stops!)
Hard To Catch Horse?  This May Be Why And

You Will Laugh When You See How Easy It Is To Fix!

How Much It REALLY Matters If Your Horse Did Just What You Wanted Or Not! (Discover What Counts Most And Why It Matters!)
How To

Get Your Horse To Want Stay With You

While Closing Gates…Even When His Other Horse Buddies Are Leaving! (If You How Powerful The Herd Instinct Is To Your Horse – You Will See The Power Of This Secret To Counter It!)
Thumb-Trick Teaches Your Horse To

"Not Leave You"

After You Remove The Halter!
That's just for starters.  Here's even more of what you'll know:
Discover The Easy Solution Of Tacking Up Your Horse, Unrestrained,  Even In A Wide Open Field! (A Dangerous Tacking Problem Most People Do But Are Unaware Of It!)
The Dirty Little Secret Brad Says

Fixes 90% Of The Horses

Who Come To Him With A Problem! (Think About This: If You Know This, Then

90% Of The Time You Can Fix The Problem Too…Just Like Brad!

)
Why You Want Your Horse To Go From Trusting To Believing In You!  (Discover How It's A Matter Of Life Or Death For You And How To Get Your Horse Choosing You Over His Instincts!)
Picture This: Your Horse Throws His Head Up And Leaves After The Halter Comes Off.  Did Your Horse Just Win And You Lost?  Here's What You Should Know!
Surprising Cure For Bridling And Halter Problems! (This Is A True Horse Whisperer Secret!)
What Two Key Things Your Horse Must Do To Relax Around You! (Plus, Discover An Amazing Trick To Relax Your Horse That Works Like A Charm – This Also, Incidentally, Get's Your Horse Ready For Haltering And Bridling!)
What Mutual Respect For Your Horse Really Is And Why You Must Always Do It! (You Almost Never Hear Horse Trainers Say This But It Is Remarkably Important You Know It!)
Here's something that will surprise you.
As you know, your horse must respect you and your leadership or he won't do what you ask and your safety will always be threatened.
And wait'll you see the shocking reason horses learn to disrespect you.
You will hardly believe your eyes when you see the gut-wrenching problems this seemingly-harmless mistake creates.  Most people (even trainers) have no idea of the damaging repercussions.
But wait…there's even more you'll know.  Take a look at this:
How To Get Your Horse To Stand Still In The Saddle

With This Leading Trick! (If You Have A Horse That Won't Stand Still, This May Solve The Problem Lickety Split!)
Horse Needs To Improve Leg Yielding?  This May Be Why And

You Will Be Astonished How Simple It Is To Fix!

Why You Never Send A Horse Away After Taking Off His Bridle Or Halter! (You Will Flip When You See The Problems This Creates!)
Simple Trick Easily

Gets Your Horse Picking Up His Feet

! (Most People Don't Realize Horses Hate To Stand On 3 Legs Because It Violates Their Feeling Of Safety – This Solves The Problem!)
Should You Control Your Horse…Or Direct Him?  Here's What You Should Know And What It Means To Your Safety, Your Horse's Obedience,  And Your Riding Satisfaction!
How Brad Uses His "Shrink The Window Of Time" Principle For Staying Safe In Saddle When You Need It Most! (There Will Be That Time When You Need Immediate Control Before Your Horse Explodes In A Dangerous Rage Of Bucking Or Bolting- Better To Know How Now!)
Should You Earn Respect Or Command It?  Here's What You Should Know!  (This Is One Of The Biggest Traps Horse Owners Trip Over – Discover How To Block These Threats To Your Safety And Your Life!)
What's more, if you want to stay safe with your horse and have extraordinary riding experiences then you must maintain a strong-as-oak bond with your horse.  That said, here's a "bond destroyer" you want to be sure you never do.
Once you see this, you will see horse owners committing this crime against themselves…unknowingly putting themselves in danger and not even knowing it – but you won't!
But there's still more.  Listen to this:
How To Convince Your Horse You Are His Body Guard And Will Protect Him When He Senses Danger !  (If Your Doesn't Learn This He Will Take Care Of Himself

FIRST

Before He Even Thinks About You – That's Too Dangerous To Allow!)
#1 Mistake Horse Owners Make Trying To Get The Horse's Respect! (Discover Brad's 5-Point Rule Getting Respect From His Horses Like A General Gets From His Troops!)
Why Too Many Horse Owners Are Overly Concerned With Pressure And Get Worried When The Horse Isn't Doing Something Right! (Discover What The Secret Really Is!)

What You Must Never Forget To Do After You Discipline Your Horse For Even The Smallest Problem!

(If You Fail To Do This, Your Horse Will Remember The Wrong Thing And You Will Nearly Always Get Frustrated With Your Horse!)
Horse Won't Stay In His Space?  Simple Secret

Gets Him "Wanting" To Stay In His Space

And Keeps You Safer!
A "Leading-Your-Horse Mistake" That Backfires Into Making Your Horse Pick Up The Wrong Lead! (It Can Also Force Your Horse To Drop His Shoulder Or Dive To The Left During A Left Turn!)
Simple Trick Easily Gets Your Horse Picking Up His Feet! (Most People Don't Realize Horses Hate To Stand On 3 Legs Because It Violates Their Feeling Of Safety – This Solves The Problem!)
Plus, here are four more things I want you to see:
How To

Have A Strong-As-Steel Partnership With Your Horse!

Brad Shows Exactly Where It Starts And It Will Shock You!
What It Means When Horse Trainers Preach To "Have The Feel" !  Discover Brad's Way To Do It And

Supercharge Your Horsemanship Ability!

What The #1 Worst Thing Is You Must Avoid When Picking Up Your Horse's Feet! (If You Don't Do This With Your Horse, He May Learn To Never Let You Lift His Feet!)
The 4 R's Of Effective Horse Training! (Discover What Makes Brad A Pro Among Pros In The Horse Training World And How You Can Do What He Does!)
As you can see, this DVD is crammed with tips, tricks, and techniques.
In fact, you will see information so powerful and effective that I'd just about bet the farm your friends will enviously wonder how you know so much.
After all, you will see people having horse problems – there's no shortage of that.  As you watch these horse owners and their horses, I'll bet you see the exact reason they have problems within 30 seconds.
How?
Because the information you get from Brad will fill your brain with powerful, jealously-guarded knowledge that few people know.
I can say this because Brad has an amazing background of experience and knowledge.
What are Brad's qualifications?
Listen to this.
Brad worked and trained horses with his grandfather from 1964-1977.  His grandfather, Clifford "Sandy" Sanderson was a legendary horseman and blacksmith.
When Brad was 18, he worked with an uncle who was a professional cowboy.  Later, Brad enlisted in the Marine Corps.  After that, he went back to the horse world where he started colts and restarted horses with problems.
He was in such high demand that he traveled to Michigan, Kentucky, Washington, Wyoming, and Colorado to help clients eager to get his help.
Brad has also worked with a number of the famous people in the horse world such as Buck Brannaman, Marty Marten, Kathy McClarrinon, and Craig Cameron.
Brad now lives in beautiful Confier, Colorado where he trains horses and offers clinics in groundwork, trailer loading, foundation horsemanship, and advanced horsemanship.
Brad is becoming rapidly famous for his well-known horsemanship clinics called "Wisdom of the Horse" which shows us humans what the horse can teach us about ourselves and about our lives.
Filming Brad was an extraordinary opportunity because his information is astonishing and effective.
As a matter of fact, Brad revealed a secret I have never seen before.
I have filmed and talked with many, many trainers.  I've seen and read one tip, trick, and technique after another – but never have I seen this.  I'll bet you haven't either…and you'll be amazed what problems it solves.
Plus, when you watch his video, you will pick up so many valuable tips, your brain will swarm with ideas, tips, solutions, and techniques!
I'll bet you'll want to rush outside and try this things with your horse.
Onward.
It's simple to get your video. Just click the Order Button below and fill in your information.
I will personally make sure your copy is sent to you as soon as humanly possible.
I am confident you're going to love this video.  So, please…order this video now because if you don't know Brads's information, you might want to hurry and catch up to the others enjoying their wild-success using Brad's knowledge.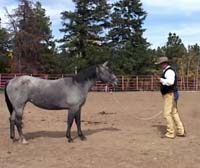 Get Your Own Copy of Brad Meyers
"The Power Of The Little Things" DVD
WAS: $39.95
ON SALE: $23.95
(plus s/h)