How To Get Your Horse Doing Exactly
What You Want By Showing
Him The Right Answer!
Plus
Learn how bits work on the horse and know which
one(s) you should be using right now!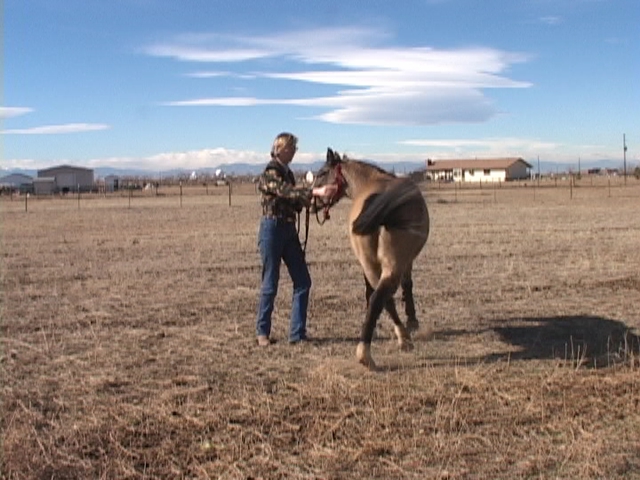 Linda demonstrating how to get the right answer from your horse!
Dear Friend,
Get ready to take notes like a crazed arsonist because from our horse training videos collection, you will learn from horse trainer Linda Braddy horse training tips like:
How to get your horse to absolutely, positively know what you want from him…almost every time!
How to tell from the saddle if your horse properly crosses his back leg over the other! (And how to get him to do it right if he didn't!)
What two things really convince your horse to have confidence and trust in you! (Get confidence and trust from your horse and you will be shocked what you can get him to do!)
Exactly where the "Rider's Groove" is located on your horse! Learn why it's so important and how to use your legs around it!
The Absolute, most critical rule you must follow the exact moment your horse does what you want! (Almost nothing gets your horse to learn faster than this – It's probably one of the most powerful horse training secrets there is and nearly anyone can do it!)
How to lead your horse for maximum safety!
What to look for while grooming your horse! Know within minutes if your horse wants to cooperate or argue! (Plus, learn how to win the argument and keep him respectful of you!)
How to pick the correct tack to use with your horse! (Warning: Don't pick your tack based on whether you ride English or Western!)
How to create self discipline in your horse! ( Teach him to figure out what you want quicker than most people can!)
How to get on your horse in the safest way possible! (Plus, the first thing you must do once you're in the saddle!)
Horse wants to ignore you and eat grass while you ride?  Here's how to break that habit lickety-split!
Exactly how to stop a horse from reaching around to bite your foot while you're holding the rein! (Incredibly, most people mess this up and unknowingly teach the horse to bite their foot – once you see this, you'll have it mastered!)
What to do if your horse is stiffer on one side of his body than another! (Get total flexibility from your horse and have a better horse!)
A little secret that makes it easier to teach your horse to give his head!
How to get all the "braking" power you need from your horse!
How use the lesson of "Rest" to teach your horse to work for you and make quick, giant leaps of progress!
How to talk your horse into paying attention to you instead of a spooky object and keep him cool as a cucumber!
How to keep your horse interested in being trained! (Keep him calm, confident, and conditioned!)
How to get vertical control over your horse's head!  (Discover what to pay attention to and how to react to the horse's littlest "give" and get maximum response from your horse!)
Avoid the "Give Trap" when asking your horse to give his face! (Eliminate your horse's frustration before it happens and keep him cooperative!)
Horse doesn't understand how to get out of the pressure?  Do this and he'll figure out in just seconds!
How to teach your horse to flex at the poll!
How to easily get a bit in a horse's mouth that's resisting like crazy!
Horse doesn't know what you're asking?  This may be why! (And here's how to solve it too!)
The secret of "Lag Time" and why it is critical you understand its importance in horse training! (Surprisingly, this nugget of knowledge  makes horse's much easier to train and you can do it no matter your skill level!)
Learn how different bits work on your horse's mouth, when to use them, and why!
The question to ask yourself when choosing a bit to work with your horse! (Learn how to use the right bit and avoid complicating communication with your horse!)
There's plenty more to tell you but I'm sure you understand how important this video is to your horse training knowledge.
Is Linda Braddy really that good?
I'll reveal some of her background and let you decide.
First, Linda was the assistant manager, a clerk, a riding instructor and trail guide at a 300 head facility at a famous military base called Camp Pendleton.  While there, she attended several clinics.
While at Camp Pendleton, there was constant flow of horses to work with.  Linda got to work with so many horses, any trainer would envious.
Linda was also a traveling trainer.  She'd go from one stable to another and work with horses.
Soon, Linda was expert in observing horses and quickly discovering their strong and weak points, how best to approach each individual problem, and more.
Linda developed her training ability by watching the good, the bad, and the ugly in horse training.  In total seriousness, Linda admits, "I learned a lot of training from the bad trainers. I learned what 'not' to do."
Linda is passionate about sharing her knowledge.  She doesn't believe in keeping secrets when it comes to horses.
And when you watch her video, you will be amazed at how much you learn from her.
I'm not kidding when I say you should take notes while watching her video.  She reveals one tip after another while speaking during filming.
You'll probably find yourself hitting the pause button so you can write down what she just said.
Onward.
It's simple to get your video.  Just click the Add to Cart Button below and fill in your information.
Only $29.95
(+ s/h)