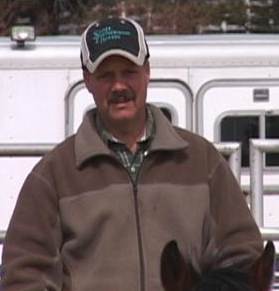 Professional Trainer
Kenny Scott
"How To Move And Control
All 4 Corners Of Your Horse!"
And Have Him Doing Things You
Thought Were Nearly Impossible!
DVD Price Reduced!  See Below
---
Kenny Scott, who quietly won the World Competition and numerous other Championships, is now sharing his amazing expertise.
I'll tell you more about Kenny's achievements in a few moments.  But first, let me describe what you will know once you see his video:
How To Start Teaching Your Horse To Neck Rein Using Kenny's

"Blind Man Through The Maze"

Secret! (Get Your Horse Neck Reining Like He's Done It All His Life!)
How To Start Teaching A Green Horse To Turn So Little Effort It's Like Driving A Sports Car!
Get The Ultimate In Collection Of Your Horse And Get Him Moving With The Grace And Agility Of A Ballet Dancer! (You'll Learn How To Transfer His Center Of Balance Up Over His Withers To Back Under Your Seat!)
How To Constantly Reward Your Horse And Keep Him Wanting To Work With You! (And It's Not Petting, Food, or "Atta-Boys"!)
How To Keep ANY Horse From Putting His Head Down And Pushing On The Bit! (Hint: You Don't Want To Stop Lowering His Head – So Do

This

To Keep Him From Pushing On The Bit!)
Spooked Horse?  9 Out Of 10 Times He'll Come Back To You Quicker Than Anything Else

If You Do This

!
The Most Important Golden Rule You Must Always Keep Your Horse Thinking While Moving Him Forward!
That's just for starters.  You also learn:
What Your Horse Must Give

Before He Gives Anything Else

! (Now You Will Get This Right When Other Horse Owners Make Their Horses So Resistant That It Can Be Nearly Impossible To Fix!)
Your Horse Drops His Head – Does That Mean He's About To Buck?  Here's How To Tell!
The Hidden Reason Why Your Horse May Be Scared And Thus Resist Training! (When You See What Kenny Does, You Will Be Astounded How Easy It Is To Solve!)
Why Rhythm Becomes So Important As You Ride Your Horse! (Plus, How To Get Your Horse To Follow Your Body Movements Without Even Knowing Why!)
How To Use Your Horse's Head To Teach Him To Use His Back Legs! (It Also Keeps Your Horse's Front End Light And Gives Him Turning Ability Like A Gifted Athlete!)
Little Trick To Tell If Your Horse Is Resistant When Backing Him! (And Why You Should Do This At Every Lesson!)
And if that's not enough, here's even more:
How To Know Which Rein Controls Your Horse's Head, Neck, and Shoulders and Which Rein Controls The Ribs And Hip!

(Get This Right And You're On Your Way To Controlling All Four Corners Of Your Horse!)

Horse Not Doing What You Ask?  Maybe He Can't Concentrate And This May Be Why? (And It's Easy To Fix, Too!)
What 2 Things You Must Get From Your Horse To Have Maximum Control Of Him!
How To Quickly and Easily Set Your Horse Up For The Right Lead! (Plus, How To Set Yourself Up For The Right Lead Too!)
The First Thing Kenny Does With Every Horse At Every Lesson! (The Average Horse Owner Never Does This…But Should!)
Need To Wake Up Your Horse While Riding Him?  Use Kenny's "Kid In The Store" Secret! (It Doesn't Hurt Him, Scare Him, or Make Him Mad!)
What Horses Respond To Best When You Need To Motivate Them! (And It's Not The Least Bit Painful!)
Here's even more…
How To Help Your Horse Keep His Balance And Confidence! (Especially Useful For A Green Horse!)
Kenny's "Ride-With-A-Flashlight" Trick That Helps Your Horse Know Where You Want Him To Go!
How To Get The Most Control Of Your Horse In The Shortest Time!
How To Get Maximum Collection From Your Horse Using Kenny's "Wall and Dresser" Secret!
Exactly How To Know If What You're Doing With Your Horse Is Right!What Calisthenic Exercises Kenny Uses To Get His Horses Stretching Their Bodies!  (Plus, Use This For Checking Your Horse's Resistance Points That May Need Fixed For The Day!)
What To Do During The First Few Rides On A Green Horse!

(And Why We Don't Care About Speed But THIS Instead!)
And get this.
You see how to easily bring your horse back into focus when he gets bored looking for something else to do.  That's important because you can't teach a bored horse anything.
Next, wait'll you see where to start working your horse's body to get all four corners moving as you like!  You'll love this one.
Here is still more of what you will see:
Want To Get Your Horse To Lower His Head?  Discover What You Must Knock Loose Before He'll Do It!
What Kenny Really Uses Spurs For! (Hint: They Are

NOT

For Acceleration!)
How To Use Kenny's "Speed Boat Technique" To Control Your Horse's Movements!
How To Use Simple Calisthenics To Challenge Your Horse And Getting Him Balancing For Maximum Results!
What Little-Known Trigger You Must Control On Your Horse To Move Him Wherever You Want!
How To Know If Your Horse Should Be Punished! (But First, Ask Yourself These Questions To Be Sure You're Being Fair!)
How To Easily Get Your Horse To Arc His Body! (Gets Him Broke At The Withers And Eliminates Him Using The Reins And Bit For A Crutch!)
We're still not done.  Here's more of what you'll learn:
The Hidden Secret Of How To Teach A Horse To Find His Balance!
How To Use Your Seat To Tell Your Horse's Outside Leg What To Do!
Which Of Your Horse's Instincts Is

The Most Effective And Powerful

For Successful Training Results!
A Little Trick To Nearly Eliminate Bucking While Riding A Green Horse!
How To Talk Your Horse Into Giving You What You Ask!
What The Most Important Part Of Riding A Horse Really Is!
How To Use The "Tennis Player Stance" For Safe And Effective Riding Posture! (Ride Your Horse Like A Pro!)
As you can tell, this video is sizzling with tips, tricks, and techniques.
In fact, Kenny reveals so much information that I'm willing to make a bold prediction – and that is this.
I predict your friends will accuse you of being nearly an expert in horse training knowledge after watching Kenny's video.
How can I say that?
Because Kenny's information is life-changing for any serious horse owner.
And you may be wondering…is Kenny Scott really that good?
Let me describe his qualifications and then you decide.
First, Kenny grew up in the horse business.  Kenny started earning money at 12 years old breaking colts.
In 1997, Kenny won the World in Western Riding.  He also made the finals in the World in Western Riding 20 times.  Plus, he made the finals in the Congress in Western Pleasure.
Achievements like these are amazing considering the World Competition is by "Invitation Only" where the best of the best of the best "from around the world" compete against each other.
Obviously, Kenny is one of the best – his championships speak volumes.
But his amazing background doesn't stop there.
Even Kenny's customers have won awards in the horse competitions thanks to Kenny's instruction.
He's had customers win the Congress in Hunt Seat Equitation, youth clients who placed in the top 10 at the World Show in Trail, Western Riding, Horsemanship, Equitation, and Showmanship.
If this isn't enough to convince you Kenny is as good as I say he is, then I don't know what else to tell you.
Plus, when you watch his video, you will pick up so many valuable tips, your brain will swarm with ideas, tips, solutions, and techniques!
It's simple to get your video.  Just click the link below and fill in your information.
---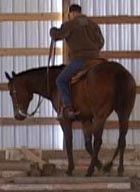 Get Your Own
Kenny Scott DVD

Reduced!
Only $24.95
(plus s/h)
Click Here to Order Your DVD NOW
---


Your Order Is Secure and Is Processed By 1ShoppingCart
---