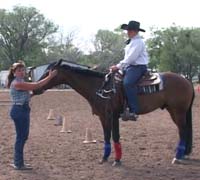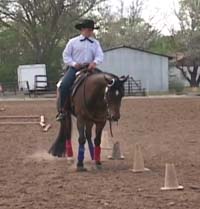 Diana Quintana – Professional Trainer
How To Safely
And Confidently
Ride Your Horse
Like A Pro!
On Sale NOW!
For A Short Time Only!
Save $10.00 when you purchase right now!
If you want to learn how to safely and confidently ride your horse, learn good balance, and have more confidence in the saddle then reading this message will be very valuable to you.Dear Friend,
Here's why…
We again met with one our favorite trainers, Diana Quintana, and asked her to show you how to safely and confidently ride your horse for proper balance, turning, side passing, trail riding, competition riding, and more.
When you're done watching, you will know:
How To Tell If You Are "Left" of "Right" Riding Dominant! (Forces You To Be Aware Of Your Body Movements So You Can Nearly Automatically Correct Your Riding Mistakes On The Fly!)

Why You Never Ride With Your Hands In Front Of Your Stomach! (Plus, Exactly What To Do With Your Elbows While Riding!)

Amazing Hand-Steadying Technique Automatically Steadies Your Hands And Keeps Them Centered! (Also Forces Good Riding Posture Which Makes The Horse Easier To Ride!)

The Most Crucial Hand Position You Must Maintain While Riding Your Horse! (Creates Crystal Clear Communication Between You And Your Horse So He Steers Like A Dream!)

The Secret Of Staying Centered When Riding Your Horse!

How To Teach Yourself Proper Balance And Leg Position By Practicing Riding On A Barrel! (After You See Diana Doing This, You Will Have A BIG "Ah-Ha!" Moment And I'll Bet The Farm Your Riding Skills Will Zoom!)

How To Use The Way You Walk To Improve Your Riding Skills!
As you can tell, there is a right way and a wrong way to ride a horse.  Diana shows you the right way.
Here is more of what you will learn:
What Your Job Is As Your Horse's Rider! (Not Knowing This Causes A Lot Of Accidents!)

How To Stay Out Of Your Horse's Way While Riding By Doing THIS With Your Shoulders! (Most Of The Time A Horse Mis-Steps Because His Rider Gets In His Way – Now You Will Exactly What To Do!)

How To Use The Physics Of Skiing To Keep Your Hands Steady When Riding Your Horse!

How To Use A Rocking Chair To Polish Your Horse Riding Skills! (And You Can Do It While You Sit And Watch The TV!)

A Horsemanship Secret You Should Always Follow! (Keeps Your Horse Staying Collected And Upright For Easier And Safer Riding!)

Is Your Head Throwing Your Horse Off Balance?  Here's How To Tell!

What Movements Are Most Important For Your Horse That Give You Maximum Riding Control!
And that's not all…
Here's more of what you learn:
How To Get Your Horse To "Lock Down" His Front Leg During A Forehand Turn!

How To Use A Wall To Quickly Check, Correct, And Improve Your Riding Posture!

The "Cake-In-Hand" Trick That Teaches You Proper Hand Position While Riding!

How To Supple Your Horse's Neck, Shoulders, Ribs, And Hindquarters For Comfortable, Safe, And Successful Riding!

If You Have To Lean While Turning, Here's The Proper Way To Do It And Not Trip Up Your Horse!

What Little Secret Makes Your Horse Supple As A Rag Doll! (A Supple Horse Is A Controllable Horse!)

Why Excessive Hand Movement While Riding Is Hard On Your Horse And You…And How To

Stop It-FAST!

(Plus, A Handy Exercise To Keep Your Hands Rock-Solid Steady While Riding Your Horse!)
I know I don't have to tell you how much you're going learn.  You can tell from what you read that you're in for a real treat.
And there's still more…
For instance, you will understand why riding one-handed is like backing a truck and trailer and exactly how to correct your horse's leads while riding.
And anytime you back or side pass your horse, you will quickly see how to keep him on course when other rider's horses steer like a drunk driver.
What's more, whether you are riding on the trail or in a competition, you learn the secret of successfully and easily weaving through objects while riding your horse.  It makes him easier to guide and makes it easier to swoon around objects that may bump your horse.
It's great for your safety and great for guiding your horse.
But wait,….there's still more.
BONUS FOOTAGE:  Showmanship Skills
If you want to get into showmanship some day, Diana reveals some of the most important considerations you should know to get ready for it.
Even if you aren't interested in showmanship, this is still very valuable information because you see proven safety practices you can use with your horse every day.
For instance, you learn how to teach your horse handling skills.  Thus, if you, the vet, the farrier, a judge, and anyone else standing by your horse can be in the safe-zone while standing around your horse.
What's more, you learn how to trim your horse for showmanship.  Plus, you see how to use your horse's ears to gauge where to trim for a clean bridle path.
Oh…and here's a neat one…
If your horse isn't backing straight, Diana shows why.  Then you learn how to correct it – and it's very easy to do.
Not only that, Diana reveals another little trick to get your horse moving forward.  This is a great tip because if your horse doesn't want to step forward (like into a trailer, for example), here's one of Diana's secret weapons you can try.
Next, you learn how to manage your horse's mane and keep it from distracting the judges so your score isn't affected.
And if you have kids who want to get into showmanship, you will learn the proper dress for boys and girls.  That way, you know what it takes to participate.
Even if you're not in showmanship, this is valuable information to know.
Does Diana have the credentials to back up her knowledge?
Let me describe her background and then YOU decide.
Diana's been training horses over 20 years.  She's specializes in youth horses to help kids because that's what she loves.
She does Showmanship, Western Riding, and Cow Horses.
She has had numerous horses become winners in different parts of the horse world.
For instance, she trained a four year old Quarter Horse that entered the World Show in the 1999 trials.  Her horse was 22nd in the world.  In other words, her horse was number 22 out of several thousand!
The World Show is where the best of the best of the best compete.  And her horse was number 22. Considering Diana's competition is the entire world, number 22 is impressive for a little ol' gal from a tiny town.
Not only that, her son qualified twice for the World Show.  With Diana's teachings, her son recently placed 27th out of 97 horses shown in Western Riding.
He was also #33 out of 109 in the reining.
I don't have to tell you that Diana's ability is outstanding.  And she's a great teacher.
Onward.
It's simple to get your video.  Just click the Order Button below and fill in your information.
I will personally make sure your copy is sent to you as soon as humanly possible.
So, please…don't pass up this opportunity…this is horse training information every horse owner should know!
P.S.  Diana won the "World Championship" in youth horsemanship.  This means you get to learn world champion horse training techniques, tips, and tricks from a World Champion Horse Trainer.  I don't know how you could get better information from a real, live pro!  Get your video now!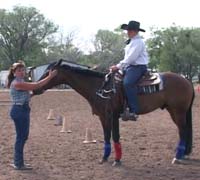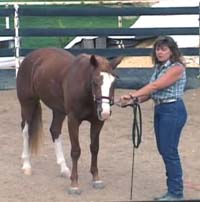 Get Your Own
Diana Quintana Riding DVD
ON SALE THIS WEEK!
Save $10.00
Only $19.95
(normally $29.95) 
(plus s/h)