How To Teach
Your Horse Reining
Price REDUCED!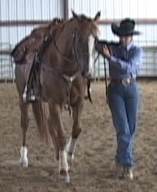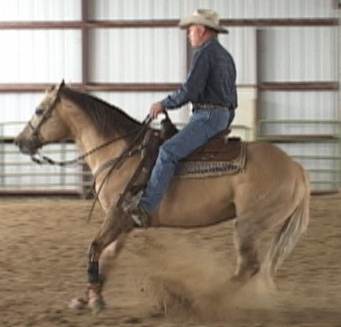 Danie and Doug Hewlett
Plus, learn dozens of valuable and effective horse training gold nuggets that solve nagging problems and prevent many from happening!
Dear Friend,
If you want to know how to get your horse doing things you thought were impossible, then this may be the most outrageous 2-Disc DVD set you have ever seen.
Why?
Because you will see and learn:
What Exercises Get Your Horse Guiding With Feather-Lite Precision!  (Plus, Why Working A Horse Like THIS Makes Him Hard To Steer!)
Why Most People Can't Get Their Horses Neck Reining-BUT How You Can So Quickly, You'll Amaze Yourself! (And How You Can Get Your Horse Neck Reining In Very Little Time!)
Not Sure What Your Horse Needs To Work On?  Follow This Simple, No-Fail System! (Also Keeps Your Horse From Hating To Work With You!)
How To Tell If You Can Take Hold Of Your Horse's Face, Turn Him In A Circle, And Move Him With Your Legs – Plus,

Do It ALL Safely From The Ground

! (Know Within Minutes Whether Or Not You're In For Nasty Surprise

BEFORE You Climb On His Back!

)
How To Know If Your Horse Is Being Rude And How To Get

Country-Gentleman Manners

From Him Nearly 100% Of The Time!
Shocking Horse Training Method That Safely And Humanely Trains Horses Fast! (And The Funny Thing Is It's Not Very Organized But Works Like A Charm!)
Don't Want Your Horse Doing Something?  Here's How To Quickly Communicate It To Him So He Knows Not To Do It!
This is just for starters.  Here's more of what Doug and Danie teach you:
A Secret "Circle-Suppling" Exercise You'll Want To Do With Your Horse! (Gets Them Bending And Giving With Ease!)
How To Tell If Your Horse Is Turning Relaxed And Balanced! (Discover When He's Comfortable Doing His Work Or If He's On Pins And Needles!)
What Common Mistake To Avoid When Training Horses! (Always Remember This And Your Success Will Explode!)
When Saying "Whoa!" Backfires When Getting Your Horse To Stop!

(Hint: This Is Also A "Thorn-In-The-Side" Of Unhappy Marriages!)

The B-W Rule That Horses Learn Best From! (Turns Out, This Is Also The Faster Way Horses Learn!)
The First Thing

You Must Do

Before Asking Your Horse For Maneuvers!
Little-Known Trick Gets Horses Stopping…Even If They Don't Want To! (A Few Rounds Of This Will Make Even The Most Wound-Up-Horse Want To Stop! – And The Beauty Is It Uses His Natural Instincts To Do It!)
And it keeps getting better.
The Hewletts also show you how to tell if your horse is feeling cooperative by pushing on him.
Plus, I don't have to tell you how easy it is to lose a horse's attention when you're working with them.
But the Hewletts show a neat trick that gets your horse's attention back to you when you lose it.
Here's more of what you'll learn:
Why Some Horses Have Trouble With Exercises And Maneuvers Because Of This Not-So-Obvious Problem! (Plus, Get Him To Do THIS, And

Nearly Everything You Ask Him To Do Becomes Easy As Pie!

)
How To Use Your Horse's Anticipation For Remarkable Training Results! (Plus, How To Keep His Anticipation From Backfiring!)
What May Be The Most Important Horse Training Rule You Must

Always Remember To Do!

Why Doug Doesn't Bend His Horses While Reining Once His Horses Pass Beginning Training! (Plus, What He Does Instead For Outrageous Results!)
How To Almost Magically Guide Your Horse Where You Want Him By Using Your Legs!
Exactly How To Supple And Soften Your Horse And Get Him Excelling In Reining!
Quick Trick Gets Your Horse Backing With Energy And Focus!
We're just getting started.
Here's more of what you'll see:
Is Your Horse Ready For Reining?  Use This Check List And Know For Sure!
Exactly When To Start Asking Your Horse For Lateral Movements At The Trot!
The First 3 Check Points You Do With A Reining Horse When You First Start Riding Them! (Makes It Easier For Your Horse To Track Under Deeper, Move His Front Feet Back, And Move His Shoulders Back – These Are Key Body Positions For Reining!)
How (And When) To Use Backing As An Effective Suppling Exercise!
How To Tell If Your Horse Is Stiff And Resistive Before You Step Foot In A Stirrup! (Helps You Avoid A Ticking Time-Bomb Just Waiting To Explode!)
Can Your Horse Be A Reiner?  Discover How Tell! (Plus, Learn What 2 Traits Make A Great Reining Horse!)
How To Get Your Horse To WANT To Spin! (Surprise! This Little Trick Works For All Kinds Of Horse Training Maneuvers!)
Plus, Doug and Danie show you what key points tell "exactly" where your horse is in his training so you know what needs worked on.
If you're not sure how to tell, you will be after you see how they do it.
What's more, if you want to teach your horse how to do a smooth, applause-getting rollback,…you don't want to miss this part of the video (DVD)!
Here's more of what you'll learn:
What Proven Exercises Ready Your Horse Before You Get Into The Maneuvers!
How To Get An Amazing Rollback From Your Horse!
Exactly How To Spin A Colt And Build His Rhythm And Muscles!
What Key Moves You Want Your Horse Doing During Lateral Movement! (Hint: Don't Let Him Speed Up – Here's Why!)
3-Point Checklist Guages Your Horse

Before

You Get On And Ride! (Tells You If You're In For An Argument With Your Horse Or If He's Ready To Do What You Ask!)
What Should Happen Immediately When You Pull On Your Horse's Face With The Bridle! (If You Don't See This, Back Up A Step A Two And Check Your Basics!)
What's more, you'll learn why looking at your horse's head during stopping makes him do "funky things" he shouldn't!
And while you're getting your stops down, you'll see exactly what you must have your horse thinking so he will keep his hind end under him and shoulders back. (Which keeps his front end light and in an athletic position for graceful, effortless turns and more!)
What's more, if you ever had a horse try to outrun you as you apply a leg aid (which is pretty common), then you will see how to handle it with ease.
Plus, if your horse likes to lean on you when you turn, then see how to easily correct it.
And if you're having trouble getting your horse to take the proper lead, the Hewletts give you a simple instruction on how to do it.
Now there is more to see – like how to tell if your horse is ready to turn fast….or what to do after your horse is leg yielding good.
As you can tell, this video is burning with tips, tricks, and techniques not just for reining, but also many other parts of horse training.
Are Doug and Danie Hewlett that good in horse training?
Well, let me describe their background and let you decide.
First, Doug won the Breeder's Cup Limited Open in Texas.
If you're thinking that was a tough, tough competition…you'd be right!
Doug also made the finals in the Limited Open by placing in fifth place.   Very difficult to make it to even fifth place.
The next year Doug went to Oklahoma City in the Derby and made finals in the Limited and the Intermediate Open.
Doug was also one of the top 10 in the world in Reining in the Limited Open Division.
Plus, he has qualified numerous horses for the World Show.
If you are as blown away by his accomplishments as we are, then you understand why we filmed him and his wife for this exclusive Reining video (DVD).
There's more.
Doug's wife Danie is a horse training expert too.
Danie started her horse training career back in 1979 where she mostly started colts but also did Hunter/Jumper training and won awards in Equitation.
Danie is also an National Reining Horse Association judge and has been since 1994.  You can bet she knows all about Reining and what it takes to succeed.
She's had numerous winnings in various competitions and has been a 4H leader since the 1980's.Danie is obviously deep into the horse field.
Frankly, horse training is what Doug and Danie Hewlett do and they have the moxy to back it up.
We were so excited to film them we could hardly wait to get started.
And you will want to get started with their knowledge too!  In a very short time you can be watching their video (DVD) and learn incredible horse training information.
In fact, the Hewletts presented so much information that we had to put the video on two DVD's.
And now it's time for you to order your own copy so you're not left behind.
It's simple to get your DVD's.  Just click the Order Button below and fill in your information.
I will personally make sure your copy is sent to you as soon as humanly possible.
I can't wait for you to see these DVD's because I'm confident you are going to watch them again and again.
Order this video now!
---
Get Your Own
Danie and Doug Hewlett
2 – DVD Set
Only $49.95
(plus s/h)

Your Order Is Secure and Processed By 1ShoppingCart
---