How To Teach Your Horse Sliding Stops
And How To Teach Spins!
(and lean a LOT about reining, too!)
2-Disc DVD Set!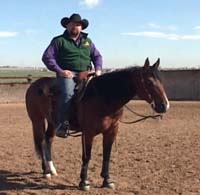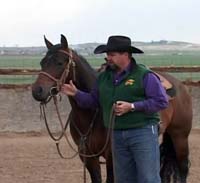 Hold on to your hat because you can have your horse spinning with the grace and beauty of a ballet dancer and doing a sliding stop so pretty, your friends will shake their heads in disbelief!
Can YOU teach your horse to do this?
Yes!
It doesn't matter if you're male or female because…
You CAN Do This!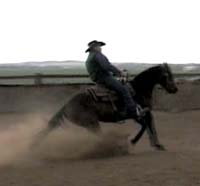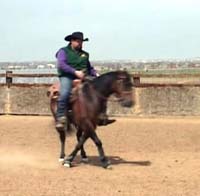 How?
Professional Reining Trainer, Chuck Nesmith, will show you how to do this in his DVD.  In it, you will see:
What You Must Do With Your Horse Every Day…Whether He's 2 or 20! (This Is One Of The Most Important Rules You Should Follow For Your Safety!)
4 Ridiculously Simple Things You Want Your Horse Doing That Makes Him A Responsive And Respectful Horse!
How To Correct A Horse's Mistake Without Confusing Him! (Use This Precise Timing Rule And You Will Be A Great Problem Solver With Horses!)
How To Get Your Horse To Stop Like He Has New Brakes! (Here's How To Get Him Thinking, "I'd sure like to stop.")
Problem Solving Trick Eliminates Getting The Same Problem From Your Horse Again And Again! (Now You Can Fix A Problem Much Sooner And Get Back To Having Fun With Your Horse!)
Horse Leaning To One Direction While Moving?  This Will Fix It Nearly Instantly!
Horse Resisting Giving His Head?  Don't Pull, Do This! (You'll Be Shocked How Well This Works!)
And there's a part in Chuck's DVD he talks about the "Crooked Arrow Trick" that gets your horse under control if he wants to ride off without your consent.
It's a great tip and one many people never think of.
Here's more valuable information Chuck gives:
How To Avoid Desensitizing Your Horse To Your Cues! (Always Have Your Horse Know What You Want!)
How To Start Your Daily Training Sessions With Your Horse For Consistent, Reliable Results!
Why "Grading Your Horse On A Curve" Will Destroy Results You Get With All Other Horses!
The #1 Mistake Horse Owners Make! (Plus, How To Avoid It So You Avoid The Second Most Common Mistake Known As The "Gimmick Mistake")
Leg Tricks Softens Your Horse If He's Resistant To The Rein!
Want Your Horse To Do A 180 Degree Turn?  Use Your Rein And Leg Exactly Like This!
What's more, Chuck shows you exactly how to ask your horse for a response – and get it almost like magic.  When other riders get frustrated because their horse doesn't respond, you'll be laughing all the way to the barn!
And if you're not getting a good stop from your horse, Chuck reveals that THIS surprising reason may be why.
Here's some more great stuff Chuck shows you:
What To Do If Your Horse Doesn't Turn When You Lay The Rein On His Neck! (Hint: Do NOT Pull His Head Around!)
How To Easily Fix A Horse's Hoppy Spin To A Smooth Work Of Art! (Use Chucks' "Elephant Stance" Principle For Elegant Spins!)
What 3 Critical Things To Show Your Horse Everyday!  (And How To Never Confuse Them So Your Horse Always Knows He Can Trust You!)
Secret Horse Training Technique Chuck Uses Everyday! (See Why This Technique Tells Chuck If His Horse Is Willing To Work With Him Or Not!)
How To Trick Your Horse To Give His Head When He Won't! (Never Mind Using Draw Reins And Martingales, Use This!)
What The Anatomy Of A Good Spin Looks Like! (Plus, What Spin Styles Are Acceptable So You Can Do It Right Immediately!)
Is Your Horse Having A Bad Day?  How To Tell! (Plus, See Why It's Important You Know This!)
Next, wait'll you hear the…
Thousand Pound Chicken Theory!
What's it about?
You can use it to remove your horse's fear and him trusting you like a best friend – that's exactly how you want your horse to see you.
And being a horse owner, here's something you should know.
Chuck shows you how to use lateral flexion to see if your horse is sore somewhere in his body.
Why is that important?
Because a sore a horse may well buck you off to get relief but now you can protect yourself by checking to see if he's sore and know before you get bucked off, bit, or kicked.
But wait, there's more.
Chuck also shows you:
Exactly How To Use Your Hands And Legs When Guiding Your Horse! (You Must Do It In This Sequence Or Risk Confusing Your Horse!)
How To Get Your Horse To Crave Stopping…Not Dreading It!
How To Use Backing Up To Get Your Horse Stopping Better! (Plus, Exactly How Much To Back Him Up!)
Little-Known Secret That Keeps Your Horse From Snatching His Nose Away While Flexing Him! (Do It Like This, And You Won't Accidentally Teach Your Horse To Be Stiff!)
Clever Trick Teaches Your Horse To Soften His Face And Drop His Head Down!
How To Teach Your Horse A Graceful Sliding Stop Step By Step! (Plus, What You Must Avoid To Keep Your Horse From A Bumpy, Clumsy Stop!)
How To Build Your Horse's Muscles For Fabulous Stops Without Even Stopping!
Plus, you see what 3 simple things you must get your horse doing before you can spin him like a pro.
And next you'll discover the step-by-step process of teaching your horse to spin.
What's more, you're going to learn:
What Common Mistake You Must Avoid When Teaching Your Horse Side passing!
How To Keep Your Horse From Being Heavy On The Front End When Riding Him In Circles! (Makes His Turns Prettier And Keeps Him Balanced!)
The #1 Rule Of How Much Pressure To Use With Your Legs!
The Amazing Secret Of How To Get Your Horse More & More Confident! (You Will Be Shocked How This Will Make You More Confident Too!)
What To Do If Your Horse Accidentally Gets Braced In The Face!
Exactly How Long To Work On Your Horse On A Task During Training! (Follow This Rule Or Risk Your Horse Refusing To Do What You Ask!)
Why Chuck Doesn't Care Much About Doing Circles With His Horse! ("This," says Chuck, "matters more than circles.")
Next, once you get going good you'll use Chuck's 3 step process that gets your horse spinning faster and prettier.
And you'll also see how to get your horse stopping and dragging his tail in the dirt like a pro reining trainer.  How?  By using the…
"One-Leg-At-A-Time" trick that gets amazing results!
Here's even more of what you'll learn:
The Very First Thing Your Horse Must Have Before You Can Teach Him To Spin! (And It Doesn't Take Long To Teach Him!)
How To Keep Your Horse From Knowing You're Nervous About Something And Exploding With Fear! (Listen How Chuck Get's His Horse From Totally Relying On Him For A Calmer Horse!)
What To Do As You First Trot Your Horse For The Day!
How To Soften A Hard Mouthed, Braced-In-The-Face Horse! (Here's A Hidden Symptom Of Being Hard Mouthed And Braced And How To Get Soft!)
What The Most Important Aspect Of A Winning Reining Horse Is! (Surprisingly, It's Not The Horse's Physical Build!)
Why You Must Be Careful About Getting Carried Away About Your Horse Dropping His Shoulder!
What 2 Things Your Horse Must Think When He Wears The Bridle! (Plus, See How This One Mistake Will Cause Your Horse To Sour On Wearing The Bridle!)
What's more, you learn how to check your horse for soundness before you continue on with him for the day.
And when you get started with your horse for the day, you will know how to figure out what your horse needs the most help with.  The good thing about this is you can help your horse be safer and more responsive. (The 2 most necessary things you want from any horse!)
Wait!  We're still not done.
Here's even more of what you'll know:
What 3 Different Cues Chuck Uses To Stop A Horse! (And Wait Until You Hear How Chuck Does His Verbal Cue!)
The #1 Rule Of How Much Pressure To Use With Your Legs!
The Amazing Secret Of How To Get Your Horse More & More Confident! (You Will Be Shocked How This Will Make You More Confident Too!)
What Question To Ask Yourself As You Ride Your Horse To Make Him Safer And More Responsive! (Here's How To Know What You Need To Help Your Horse With!)
What YOU Use To Control Your Horse's Neck, Shoulders, Hips, And Ribs! (If You Don't The Control On Your Horse You'd Like, Then You MUST See This!)
As you can see, there is an amazing amount of valuable information waiting for you – and there's more than what I've told you.
I could tell you more but I'm sure you get the idea.
Thus, it's time you get your own copy of this exclusive DVD.
Most folks dream of teaching their horses to do sliding stops and spins.  It you're one of them and want to learn all the secrets about how to get it done, then order you copy today.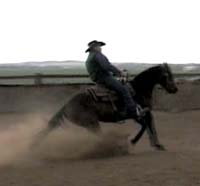 ---
2-DVD Set
Get Your Own
Chuck Nesmith 2-DVD Set
and learn how to do those sliding stops and spins!
Only $49.95
(plus s/h)