Certified Instructor Carol Jones
Using Dressage Techniques To Better Your Horse
Horse Training Techniques
A British Horse Society Trainer Uses
To Get Incredible Results With Horses!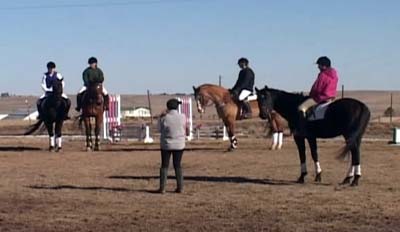 Carol and her students going over instructions and methods.
Prepare to be shocked!
Why?
Because after you use just one of the many techniques and tips you learn from this British Horse Society trainer, Carol Jones, your horse's attitude, ability, and confidence will improve so quickly that you can't help but notice it immediately.
Nearly any kind of riding you do with your horse can be significantly improved using these tips and tricks.
You see, horses don't automatically know how to step over things, approach obstacles with confidence, comfortably jump, etc.  Your horse has to learn what to do and how to do it.
So do natural athletes.
Horses are very often natural athletes but they need guidance – and that's where you come in.
And the exciting thing is you will see how to help your horse be his best.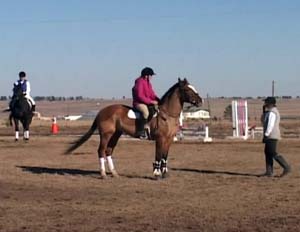 Carol Jones will show you how to:
Secret Of Getting Your Horse To Focus!
The "Skiing Technique" You Must Use To Ride Balanced And Stay Out Of Your Horse's Way!
Exactly How To Post When Riding A Trotting Horse! (We've Slowed Down The Video Footage So You Can Exactly How To Easily Do It!)

Fastest Way To Solve A Horse Problem!

(Learn To Neutralize The Problem Like This And Become A Master Problem Solver!)
How To Reprogram Your Horse When He Rushes! (This Is So Simple, You'll Wonder Why You Didn't Think Of It!)
The One-Eye Principle To Help You Understand

How To Magically Think Like A Horse!

Are You Committing "Rider Error"?  Here's A Great Way To Tell!
Plus, discover why relationships between you (the rider) and your horse break down…and see what two things you can do to fix it fast and easy.
And that's not all.  You also see:
How To Correct A Common Problem You May Be Doing As You Cross Obstacles With Your Horse!
Why Your Horse's Walk Is So Incredibly Important! (Discover What The Quality Of Your Horse's Walk Means And What It Will Do For You!)
The Dressage Secret That Keeps Your Horse From Being Heavy On The Forehand Over Poles When Going In Circles!
Will Your Horse Bounce Over A Jump?  How To Tell Without Even Jumping!
Horse Not Good At Multitasking?  Here's How To Get Him Doing It Well!
Why You May Be Leaning In The Saddle And What To Do To Fix It!
What Really Affects The Quality And Safety Of A Jump! (Hint: It's Not The Moment You're Jumping!)
What's more, here's how to tell if your horse is arguing with you.
And get this…
You'll see how to tell if it will get worse.
Why does that matter?
Because your horse won't learn or perform as well if he's arguing with you.  You can't teach your horse anything if his mind is clouded with arguing.
And once you know if he's arguing and if it will get worse, you can diffuse it very quickly and get him back in learning mode – fast!
Here's even more of what you'll know:
Does Your Horse Have A Hiccup In His Rhythm? This May Be Why!

(Plus, Here's The Cure!)

Which Two Parts Of Your Lower Leg To Use When Jumping! (Plus, When To Apply Your Leg To Help Your Horse Feel Secure And Keep You Safe!)
Horse Wanting To Rush After A Jump?  These Simple Exercises To Fix It!
The Worst Mistake Us Humans Make When Horses Make A Mistake! (Plus, How To Think Through Fixing His Mistakes Without Trauma To Your Horse!)
Is Your Horse Spidering?  How To Tell!

(Plus, How To Stop It So You Won't Get Hurt!)

Is Your Horse Ready For Jumping?  How To Easily Tell!
Should You Be Worried If Your Horse Jumps Sloppy? Here's What Really Matters!
And here's something every rider should know.
You must be a smart pilot who does not overly concern your horse about the wrong things.  So many people make that mistake and turn their horse into dangerous bundle of nerves.
But now you can avoid it after you see how.
Oh…and you'll also learn these:
Did Your Horse Suddenly Spook Over Something In The Arena?  This May Be Why! (Plus, How To Quickly Get Your Horse's Mind Back To His Work!)

Amazing Trick Adjusts Your Horse's Stride From The Saddle!

(Helps Get Better And Safer Jumps!)
What Slightly Humorous Sign From Your Horse Tells You He's Not 100% Confident Of What's Going On In Front Of Him! (This Will Help You From Making The Mistake Of Forcing Your Horse To Do Something He's Deathly Afraid Of And That Could Hurt You!)
Does Your Horse Argue With You At The Jump?  How To Fix It! (Fact: 90% Of Refusals To Jump Happen Because Of This Easy-To-Fix Mistake!)
#1 Secret Of How To Keep Your Horse Jumping Successfully!
Most Effective Way To Teach Your Horse Where His Feet Are! (Teaches Your Horse Balance And Correctness And It's A HUGE Safety Benefit For You!)
How To Set Your Horse Up For Successful Jumping!
Not only that, see the "Tennis Ball Game" that teaches your horse how to accept having a leg on him while jumping?
Why does that matter?
Because properly applied, the leg will give him confidence and teach him to look to you.
Click Here to Order Your Carol Jones DVD Set NOW
But wait – there's more:
Horse Cocks His Hip Over Before Jumping?  How To Tell And How To Help Him Fix It!

How To Wake Your Horse Up And Get His Attention Back!

(And Do It Without Hurting Or Startling Him!)
What 3 Consistencies To Look For When Your Horse Crosses A Rail! (Plus, What To Do If Your Horse Throws Up His Head And Suddenly Goes A Little Fast!)
Genius Way To Teach Your Horse The Height Of A Jump!
What Actually Blocks Your Horse From Adjusting To An Obstacle And Prevents Him From Jumping It!

How To Counter-act Your Horse's Anticipation!

(Warning: You May Be Causing It – Here's How To Tell!)
The #1 Rule Of Good Foundation Training In Jumping! (The Rule Is To Follow These 2 Critical Rules!)
Plus, here's a great way to adjust your horse's stride with ground poles.  Then you'll see how easy it is to teach them to adjust their stride themselves!
And here are just a few more exciting things you'll learn from Carol:
What Fun Exercise To Have Your Horse Do Next After He's Mastered The Ground Poles!
How To Know If Your Horse Is "Tanking" You Into The Jump?  Fix It With The "T-W-T-W"!
How To Tell If Your Horse Has A Mental Change In His Attitude!
How To Check Exactly Where Your Horse Is At Mentally With These Simple Exercises! (Tells If It's Safe To Now Walk Or Jump Over Objects!)
As you can see, there is an amazing amount of valuable information waiting for you – and there's more than what I've told you.
I could tell you more but I'm sure you get the idea.
Thus, it's time you get your own copy of this exclusive 2-Disc DVD set.
It's simple to get your DVD's.  Just click the link below and fill in your information.
I am confident you're going to love this video.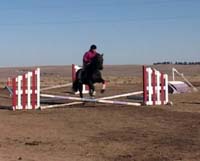 ---
Get Your Own Carol Jones DVD Set!
2-Disc DVD Set!
Only $79.95
(plus s/h)
Click Here to Order Your Carol Jones DVD Set NOW


Your Order Is Secure and Is Processed By 1ShoppingCart
---