How To Catch And Saddle A Horse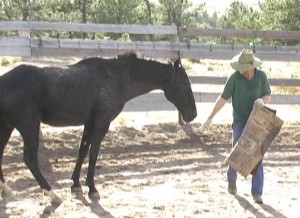 Plus, How To Teach Your Horse
To Follow You…Even Through Spooky Stuff!
Watch how Aaron turns a cynical,
untrusting horse into a willing,
Do-What-You-Want Masterpiece!
If you have a disrespectful horse that won't stay with you, runs away as you approach him with any kind of tack, ignores you, or just won't let you saddle him…then you are seconds away from knowing how to eliminate those (and other) horse training behavior problems.
Here's what this is all about.
Aaron Mills, the trainer in this 2-Disc DVD set, had a horse brought to him that wouldn't let anyone get near him.
The horse's owners had put a saddle on him and just started riding.  They assumed the horse would be good to go.
Within moments, the horse started bucking and quickly became impossible for the family to deal with.  They couldn't catch him.  Ride him.  Or get close enough to remove the halter
Obviously, the horse had a bad, spooky experience with their owners.  It got so bad, they couldn't catch their horse…much less put a halter on him.  And before the horse went "bad", he went bucking out of control.
They knew they needed to call Aaron for help.
Fortunately, we got to film the transformation of this horse going from "not allowing himself to be caught" to "being 'wilingly' caught and have a saddle put on him without exploding out of control."
As you watch Aaron do his magic, you learn:
Secrets to a successful first ride on your new colt! (Keep him from bucking!)

Aarons "Secret Weapon" Horse Training trick! (Teaches your horse to want to do what you want him to do!)

Why it's an advantage when your horse shows you something he doesn't like! (And how to work through it and have an incredible horse!)
The #1 Mistake horse owners make and how to avoid it! (Eliminate your frustrations with this tiny, yet powerful nugget of wisdom!)
How to be fair and consistent with your horse to get the results you want!
How to keep your horse's attention on you and only you!
Exactly how much to work your horse if he's not cooperating!
And then there's Aaron's trademark "Hand Hold Out" signal that teaches the horse to follow him and stay the perfect distance away!
It's an amazing site to see a horse go from not wanting to be near anyone to following Aaron around at the perfect distance and not wanting to leave him.
And that's not all.  Aaron also reveals…
How to keep frustration and anger at from causing you to mishandle your horse!
When to walk toward the side of your horse and when to walk toward his face!
How to motivate your horse to move in the round pen!
How to get your horse used to the saddle pad if he's terrified of it!
Exactly when to touch the saddle to your horse if he's been deathly afraid of it before!
How to get your horse used to the saddle before you even touch him with it!

How to correctly use a throw rope to motivate your horse's movement
What's more, you will learn what what to look for when you want the horse to stop! And if he doesn't do this, send him off and stop him again before you accept his stop!  Now it may sound a little complicated, but when you see the video you'll understand it immediately.
And there's still more you learn from Aaron.  You also get…
Aaron's cool trick of "Presenting the coiled rope" that gets the horse to decide if he wants to misbehave or do what he knows he's supposed to do!
How often to change the horse's direction in the round pen while working him! (And how the direction changes affect his behavior!)
How long to work your horse before asking him to stop!

How to tell if your horse has "baggage" and how to deal with it!

When to stop the lesson for the day!
The "Me" signal that teaches a horse to lock onto you almost no matter what! (Teaches horse to look to you if he's scared!)
Watch the resistance the horse gives Aaron and how Aaron works through it
Here's something else you should know.
Aaron does this with every horse so he can see where the horse is having trouble so he can fix it right then and there.
As you watch Aaron, you will see where the horse was telling Aaron what bothered him and how Aaron overcame it with patience, love, kindness, and fairness to the horse.
This video is bound to become a classic.  You will love watching and learning from Aaron as he…
 Turns a fearful, don't-touch-me horse
 into a trusting, do-what-you-ask masterpiece!
In case you're skeptical, let me tell you a little about Aaron's background.  Then you decide for yourself if it's worth a try.
Aaron rode horses as a kid.  He did the usual 4-H activities and studied all he could about horse training.
Later, he trained a wild Mustang fresh off the Reno desert.  Aaron said, "That Mustang taught me more than any other horse I worked with!"
To date, Aaron has started over 700 colts from scratch and restarted even more.  (Restarted horses are ones that have so many problems that Aaron has to start them over for the owner.  Plus, it's harder to restart a horse than it is to start one from scratch!)
Aaron has helped over 1,000 clients to ride and train their horses.
Does Aaron have the credentials!
Oh yeah!  And then some. He would not be one of our featured trainers if he didn't.
Onward.
It's simple to get this 2-DVD Set.  Just click the Order Button below and fill in your information.

2-DVD Set
ONLY $47.00
Get Your Own
Aaron Mills 2-DVD Set