Sensational Spring Special!
An unbelievable price for our most popular
books AND Audio Books! 
PDF eBook and MP3 Audio Book
Download Special
Do you have problems with your horses you need to fix?
Or are you just learning to ride and need help understanding how to ride and how to handle and care for horses? 
You need professional horse training
and horseback riding instruction!   
Many have been holding off buying due to limited funds or being cautious.
We have heard from you and have decided to offer, for a very short time,
a download special like we've never done before.
---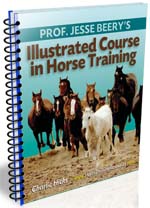 You get the ENTIRE 8 Volumes of the
Jesse Beery Course In Horsemanship as:
    1. PDF eBook Download Files, AND
    2. MP3 Audio Book downloads
You Also Get These Bonus Books:
1. The Arabian Art of Breaking and Training Wild Horses PDF eBook
2. Breaking Colts PDF eBook
And, You Get the Riding Book Downloads:


    1. Horseback Riding: The Complete Beginner's Guide PDF eBook
    2. So You Want to Ride PDF eBook
    3. Buying A Horse PDF eBook
    4. Black Beauty PDF eBook
---
Purchased individually on other pages of
this website, these downloads would cost:
  $115.00
However, we're not going to charge
near that much and not even:
 $79.00
We are offering the ENTIRE set of download
books as our Sensational Spring Special
ALL For ONLY:  $39.00
Click "Add to Cart" below




No coupons are valid with this offer since
this is WAY below the normal prices.
No shipping for downloads!  You will download all books and
audio books to your computer immediately upon purchase.
Note: these are NOT printed books – they are Adobe PDF digital files you will download to your computer to read and/or print out.  The audio books are in MP3 Audio Book format you can listen on your computer, copy to your MP3 player or copy to a CD and listen to on your MP3-compatible CD or DVD player.
But WAIT!
* Add This Best-Selling DVD To Your Order *

We are offering you a chance to get our most popular
DVD title for only $20.00 more with your order!
(normally sells for $39.00) 
You are getting Sam Burrell's
"How To Install An Operating System In
Your Horse (and yourself!)"

Get Your Horse Turning, Bending,
Giving, Stopping, And Cooperating
Like You Never Thought Possible!
Here's what your getting:
All the download files as shown above

The Sam Burrell "Operating System" DVD mailed to you
You Get ALL Of This For Only:
$59.00
(plus shipping for the DVD)
Click the "Add to Cart" button below right now:
Please – DO NOT USE ANY COUPONS
With This Special.  We can't afford
to take the price any lower.
(NOTE: If you already have the Sam Burrell DVD and would
like a different one then just put the DVD title in the
Comments section of the checkout page)
We want to honor the special for everyone according to their need.